See the latest Australian dollar analysis here:
From The Australian:
THE soaring Australian dollar is poised to tumble as lower interest rates, an escalating US fiscal crisis, and more Federal Reserve asset purchases conspire to push the high-yielding currency significantly below parity against the greenback.

That's according to strategists at investment bank HSBC, who say the so-called Aussie may sink to as low as $US0.9500 by the end of the year as those factors erode its spread advantage in the coming months. An anaemic growth outlook for the world's largest economy will in particular hit Australia hard because of the impact of that on Asian nations that its resource-rich economy is closely tied to, the strategists say.

"The Australian dollar has traditionally been one of the worst performers under a U.S. slowdown, and with the fiscal cliff fast approaching we expect a new risk-off movement," said David Bloom, head of FX research at HSBC. "This will have damaging repercussions for the Australian dollar."
Not sure the HSBC economist in Australia would agree!
Here is the page from the note on the AUD: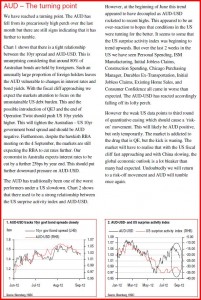 David Llewellyn-Smith is Chief Strategist at the MB Fund and MB Super. David is the founding publisher and editor of MacroBusiness and was the founding publisher and global economy editor of The Diplomat, the Asia Pacific's leading geo-politics and economics portal.

He is also a former gold trader and economic commentator at The Sydney Morning Herald, The Age, the ABC and Business Spectator. He is the co-author of The Great Crash of 2008 with Ross Garnaut and was the editor of the second Garnaut Climate Change Review.
Latest posts by David Llewellyn-Smith (see all)