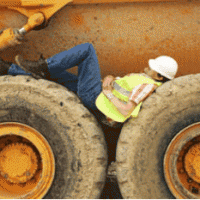 Last month, I noted how Canberra had recently experienced a mini-construction boom, particularly in units & apartments, which is starting to unwind, threatening jobs in the construction industry: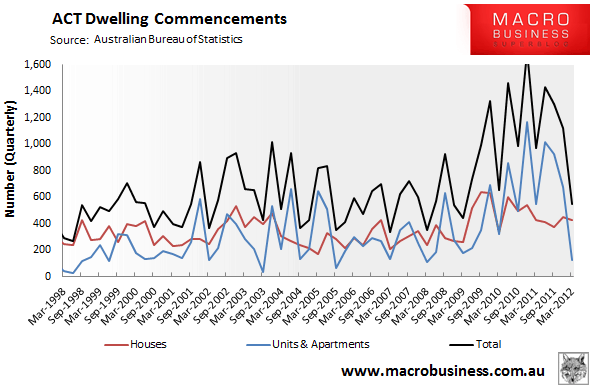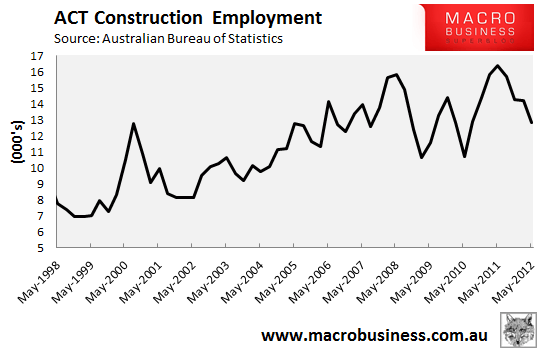 Now, it appears the chickens are coming home to roost, with the Canberra Times reporting a swathe of building company collapses as housing construction comes off the boil:
A dramatic collapse in Canberra housing starts has led to a spike in the number of builders going bust, industry analysts, administrators and liquidators say…

Master Builders ACT executive director John Miller said times in the industry were as tough as they had ever been.

"There has obviously been an increase in the number of builders who are closing. There are a lot of wind-ups at the moment. Many of our members report that while they are still working they are experiencing a reduced level of activity."

The dramatic turnaround comes just five months after Canberra City and Kingston claimed places one and six respectively on a Housing Industry Association list of national residential development hot spots for the 2010-11 financial year.

An experienced insolvency practitioner, who did not wish to be named, said Canberra's building sector was experiencing "evolution in action".

"There has definitely been a spike in the number of building companies going down in the last two or three months," he said.

"Many of the people who have gone haven't been around long. The industry is going through a bit of a clean-out. A lot of people who came in during the good times don't know how to manage when it gets tough."

Mr Miller agreed there was a direct link between the business closures and the evaporation of buyer demand.

"There is no question we have gone into difficult times; uncertain times. The market is right down on where it was pre-2008," he said.

"Confidence has been extracted from the market and this is reflected in the level of building activity.

"There has been a lot of multi-unit development and there is an argument we have reached the point of oversupply [with this]."

A wide range of factors, including a land drought, had all played a part.
The current situation is a far cry from the heady days of mid-2010, where a lack of land for development caused buyers of new house and land packages to camp out and go into a ballot in order to buy property:
"The ACT's government resorted to a "virtual" ballot after buyers camped out for a week in freezing temperatures to secure blocks of land…

In Canberra's Forde, a new suburb 14km north of the city, hopeful buyers spent up to a week queuing and camping…

Developers eventually allocated numbers to potential buyers and sent them home…

"There were campervans, people in caravans and tents – it was quite a sight," Mr Lynch said of the buyers queuing a week ago to get a toehold in the Canberra market… "
With the federal government currently embarking on austerity measures, which are likely to reduce public sector employment and recruitment within the ACT (decreasing demand for new homes), there is the potential that the ACT economy could experience a marked increase in unemployment over the coming year.
Twitter: Leith van Onselen. Leith is the Chief Economist of Macro Investor, Australia's independent investment newsletter covering trades, stocks, property and yield. Click for a free 21 day trial.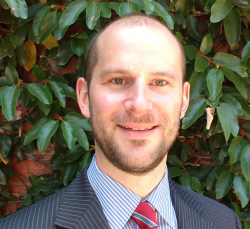 Latest posts by Leith van Onselen
(see all)