For those who have been following my European post for any length of time you may remember my basic macro theme for Europe is that the enactment of the fiscal compact across the zone will create the following dynamic:
Periphery nations weakening, France in the middle, Germany outperforming, but the whole ship slowly sinking.
This assessment is based on the analysis that attempts to internally devaluate interdependent nations with an aim to become export competitive is nothing more than a race to the bottom which will eventually slow the entire region including the stronger economies. As I have noted previously the only economy that appears to be bucking this downward trend is Ireland due to the fact that is has always been export competitive under the Euro and its major export partner is not European.
Overnight we saw European Q2 GDP numbers and as you can see from the chart the trend continues.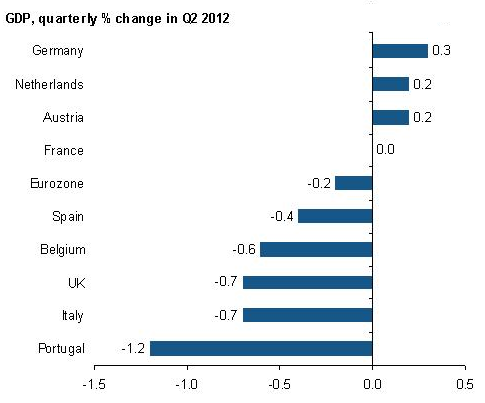 Finland, not shown in the chart, came in at -1.0%, Cypus -0.8%.
Eurostat also release the Industrial production numbers ( report below ) and the story is much the same.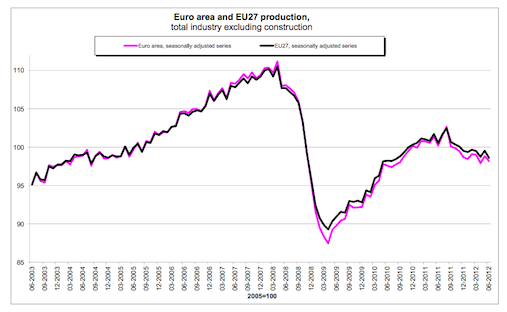 Obviously the real area of concern is the nations that are currently struggling as these are the countries that present the most immediate risk. In that regards the news is not  good with YoY Industrial production down -8.2% in Italy, -6.3% in Spain and -4.4% in Portugal. Once again the only good news is from Ireland with growth of 9.5%. In terms of re-balancing it is obvious that Germany continues to pull away from the the periphery which is exactly the opposite of what is required under the single currency as it is the root cause of much of Europe's economic problems.
It must also be noted that France's 0% growth came from a large contribution in government spending while the external sector was a drag on GDP.
All of this data fits with what we have seen in the PMIs which suggests that the downwards trend is now baked in. One of the notable trends in the PMIs was the continuing fall in new orders across much of Europe which suggests industrial production, and therefore GDP,  has further to fall.
The other data pointing to continuing economic, and possibly political, issues is unemployment. Spain currently has rate of 24.6%, Italy nearly 11% and rising, Greece at 23% and as of yesterday Portugal has too reached a new eurozone record.
Portugal's jobless rate rose to a euro-era record 15 percent in the three months through June as the country's economy contracted for a seventh quarter.

The unemployment rate increased from 14.9 percent in the first three months and 12.1 percent in the second quarter of 2011, the Lisbon-based National Statistics Institute said today in an e-mailed statement.

The government forecasts unemployment will increase to 15.5 percent for all of 2012 and to 15.9 percent in 2013.
With even Portugal, the Troika's model student, now accelerating into in economic trouble the rest of 2012 is looking increasingly troublesome for Europe.
Euro_IP