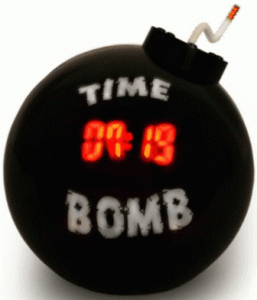 In case you missed it, The Sunday Age yesterday ran a great article on the epic housing supply glut that is affecting Melbourne where, according to SQM research, the number of homes for sale has hit a record high, around double 2008 levels: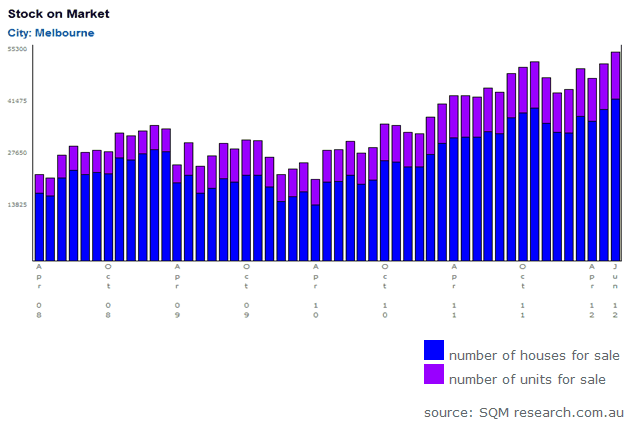 Here are some key extracts from the Sunday Age article:
MELBOURNE'S urban fringe has been swamped with 35,000 unsold homes, prompting warnings the glut could trigger a further slump in property values, and fuelling criticism of the Baillieu government's "crazy" decision to expand the city's boundary…

Of the record 55,290 unsold homes in Melbourne in June – the highest number of any capital city in Australia – most were concentrated in about 50 suburbs on Melbourne's periphery, where more than 60 per cent of all unsold homes in Victoria are located, according to data from SQM Research.

As demand has fallen over the past year, the number of outer suburban homes with "For Sale" signs has jumped by almost 40 per cent…

"We're just not seeing any end in sight to this glut of new supply coming into the market," said SQM Research managing director Louis Christopher. "It seems obvious there is only one direction for prices. That's a frightening possibility if you're a property owner"…

"It's like a ghost town in the new developments. Nothing has moved for the past three, four, five, six months," said Hocking Stuart agent John Halkidis, who works in northern suburbs including Bundoora and Epping.

The tough market conditions are expected to deteriorate even further, with research showing developers are poised to release another 75,000 new home sites at 126 existing housing estates in the city's growth areas.

"In good times, that would be equivalent to a five-year supply. Right now, it's more like a nine-year supply," said Robert Papaleo, research director for property analysts Charter Keck Cramer…

But claims of a housing glut were rejected by development industry groups, the UDIA and the HIA.

"There's no reason for concern. The stock on the market tells you nothing about the fundamentals. It's underlying demand that matters. Melbourne's new homes market is in good shape," said HIA economist Andrew Harvey.
As noted many times previously, Melbourne's already fragile housing market is about to get a whole lot worse as a torrent of new homes either planned or already under construction, continues to flood the market: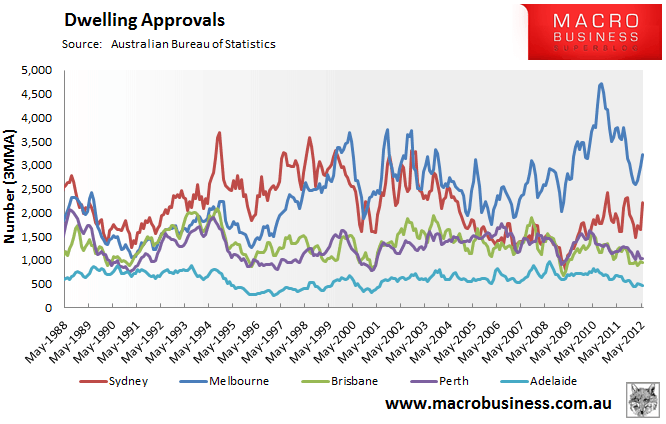 Meanwhile, new home sales, which are already highly subdued (see below chart), are about to take another leg down following the expiry of the $13,000 First Home Bonus on 1 July 2012.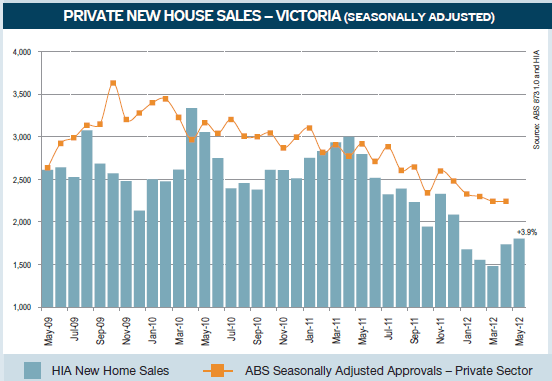 Meanwhile, over at the AFR, there is an excellent feature covering national housing more broadly but picking the theme of a sudden oversupply:
Why are there so many homes for sale? Consider the comments made to AFR TV this week by RP Data research analyst Cameron Kusher, after pointing out there were about 300,000 homes for sale around the country. "I remember back in the global financial crisis we were worried about the amount of stock on the market and then I think it got up to around 240,000," Kusher says. "What would be good for the market is if some of those people realise that they're not selling, there's not much point in keeping it advertised, take that property off the market."

If houses aren't selling, simply building more might not be the only answer.

Tax reform is another being advocated. The argument goes that inefficient taxes are making housing unaffordable, slowing down housing formation by forcing young people to stay at home longer and artificially reducing demand.

Committee for Sydney strategic adviser Tim Williams was an adviser to the United Kingdom's housing and regeneration ministers for five years until 2010.

He congratulates state governments for speeding up land delivery and streamlining the approval process for developers. But he also wants to get rid of stamp duty and replace it with a broad-based land tax, reconsider capital gains tax exemptions on the family home, and stop subsidising loss-making properties through negative gearing tax breaks.

"We have made incentives to people already in houses so attractive they are outbidding everyone else for a home," Williams says. "This is becoming so perverse now that in Sydney the most successful way of obtaining a home is inheriting money.

"Seventy per cent of 35-year-olds cannot access home ownership at this point in time. Twenty-two per cent of Sydneysiders own 55 per cent of homes. People who have access to home ownership are leveraging that to buy more units to rent out. Effectively younger people cannot access home ownership and that is a crisis, but it's hidden because they are staying at home until they are 31."

He thinks we need a "very big public debate" about the policy incentives that help young people obtain home ownership, and is looking beyond the current staple of handouts to first-home buyers and temporary cuts to lucrative but inefficient property transfer taxes.

Governments are shy of reform, even despite the urging of the likes of former Treasury secretary Ken Henry in his review of taxation last year, and NHSC deputy chairman Saul Eslake.

But pressure is mounting from a growing community of activists like Australians for Affordable Housing, Earthsharing Australia and Prosper Australia, who think the Australian housing market favours the old at the expense of the young.

They argue supply and affordability cannot be looked at in isolation. Housing shortages in boom times can turn to oversupply when times get tough as people group together to save costs.
Let's hope that the strong "underlying demand" trumpeted by the HIA and NHSC comes out of hiding. Otherwise, Melbourne's housing market is in trouble.
Latest posts by Leith van Onselen (see all)