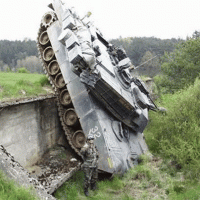 The Reserve Bank of Australia (RBA) has just released the private sector credit aggregates, which registered a small increase in total credit in the month of June, but the second lowest monthly housing credit growth in the series' 35-year history and the lowest annual mortgage growth ever recorded:
Total credit provided to the private sector by financial intermediaries rose by 0.3 per cent over June 2012, after rising by 0.5 per cent over May. Over the year to June, total credit rose by 4.4 per cent.

Housing credit increased by 0.3 per cent over June, following an increase of 0.3 per cent over May. Over the year to June, housing credit rose by 5.1 per cent.

Other personal credit decreased by 0.2 per cent over June, after increasing by 0.1 per cent over May. Over the year to June, other personal credit decreased by 1.5 per cent.

Business credit increased by 0.5 per cent over June, after growing by 0.8 per cent over May. Over the year to June, business credit increased by 4.4 per cent.
A chart showing the long-run breakdown in the components is provided below: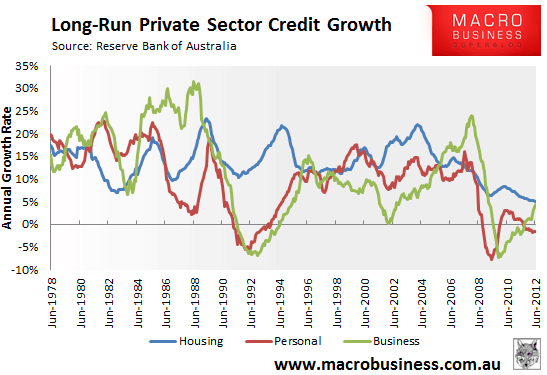 Personal credit growth (-0.2% MoM; -0.4% QoQ; -1.5% YoY) fell over the month and remains lower over the year. By contrast, business credit continued its modest recovery (0.5% MoM; 2.0% QoQ; 4.4% YoY), which is good news, but housing credit (0.3% MoM; 1.0% QoQ; 5.1% YoY) grew over the year, but at subdued levels relative to their long-run average growth rates.
Focusing on the housing market, annual credit growth hit a fresh all time (35-year) low of 5.06%. Monthly housing credit growth (0.30%) was also the second lowest recorded result in the series' history (see below chart).
After registering a decent bounce in January, monthly housing credit growth recorded five consecutive monthly falls and appears to be in a downtrend.
Finally, a breakdown of owner-occupied credit and investor credit is provided below: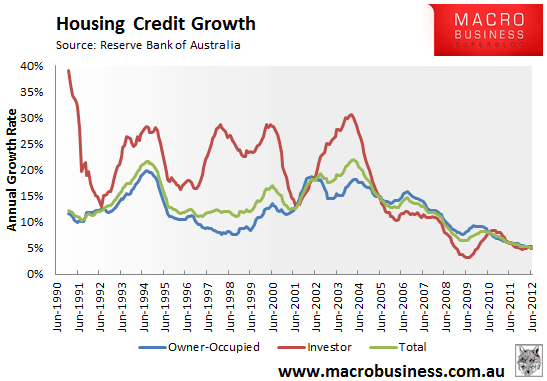 What is most worrying about this result is that it follows the RBA's -0.5% cut in official interest rates in early-May and the follow-up -0.25% cut in June. While it is only a few month's data, these figures imply that these rate cuts had absolutely no impact on mortgage demand which, in fact, has taken another leg down over the past few months.
Twitter: Leith van Onselen. Leith is the Chief Economist of Macro Investor, Australia's independent investment newsletter covering trades, stocks, property and yield. Click for a free 21 day trial.
Latest posts by Leith van Onselen (see all)