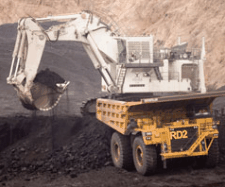 The Australian Bureau of Statistics (ABS) has just released trade data for the month of May, which has recorded a monthly trade deficit of -$285 million, up from -$26 million in April (revised down from a previously reported -$203 million). March's deficit was also revised down to -$1,004 million from a previously reported -$1,282 million.
The market had expected a trade deficit of -$203 million, so the result came in slightly worse than expected.
The trade result was driven primarily by a sharp increase in imports. In seasonally adjusted terms, goods and services credits (exports) rose by $570 million (2%) to $26,766 million, whereas goods and services debits (imports) rose by $829 million (3%) to $27,051 million.
Australia's two key exports – iron ore and coal – showed little movement over the month, with iron ore exports increasing by $239 million and coal remaining flat. Both export commodities also remain below recent highs, accounting for 40% of Australia's merchandise exports, down from a peak of 46% in September 2011 (see below chart).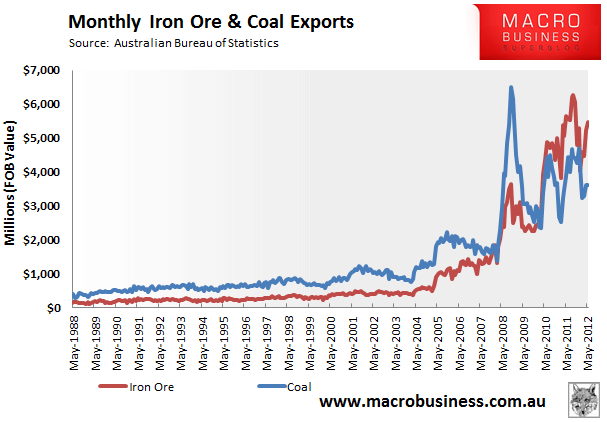 China and Japan retained their status as Australia's two key export markets, accounting for $7,327 million (32%) and $4,129 million (18%) of exports over the month. Exports to China also hit a new record high over the month, exceeding the previous record (October 2011) by $258 million (see below chart).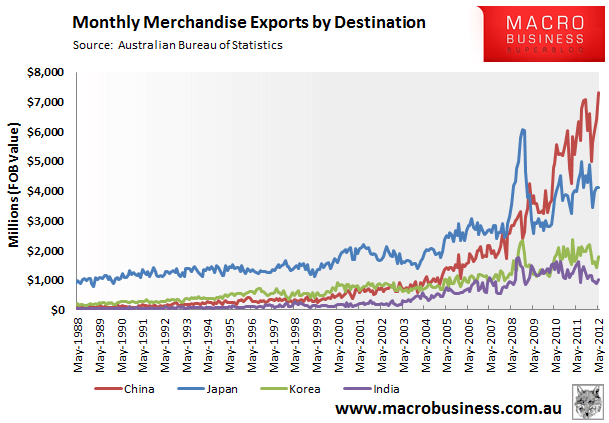 Given its status as Australia's major producer of iron ore, Western Australia continues to dominate the nation's exports, achieveing growth of $443 million or 4% in May (see below chart).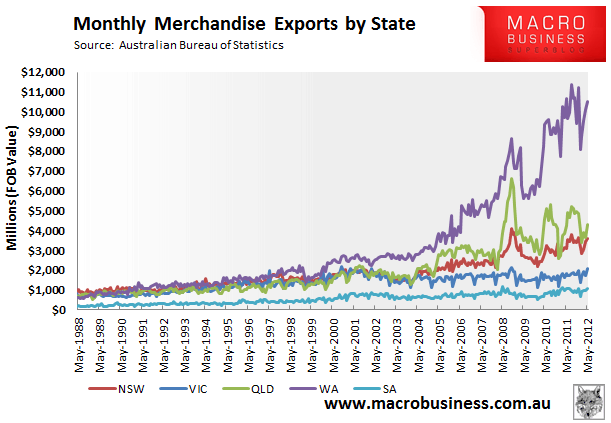 However, Queensland (+$704 million), New South Wales (+$641 million) and Victoria (+$483 million) experienced large increases in imports, which drove the nation's trade balance down over the month (see below chart).
Finally, Australia's services trade deficit was up slightly, increasing by $29 million over the month, driven by an increase in tourism imports of $27 million. Australian services exports also appear to have stabilised after being in a downtrend that began in late 2008 on account of the high Australian dollar (see below charts).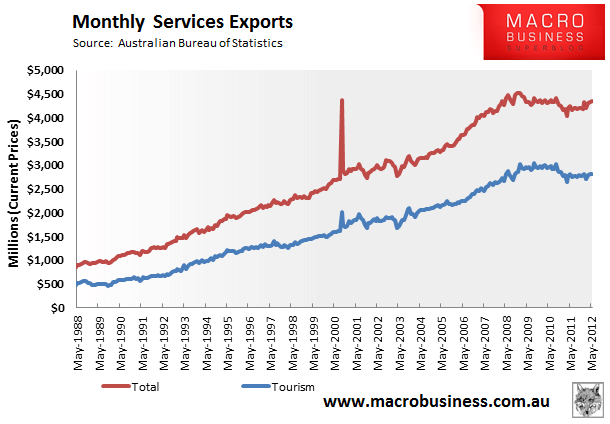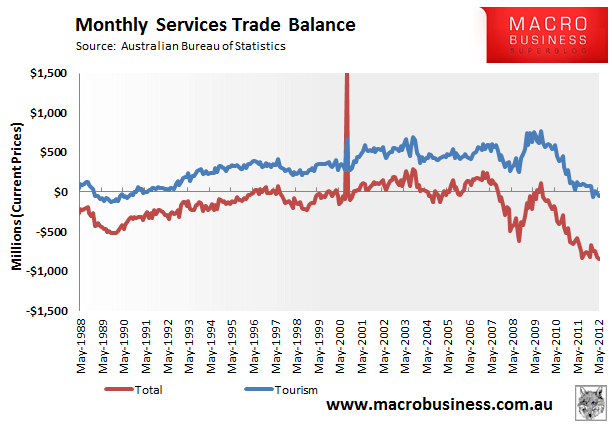 Overall, Australia has recorded cumulative trade deficits of -$2,934 million so far this year, which comes after $35,800 million of cumulative trade surpluses were recorded between April 2010 and December 2011.
Leith van Onselen is Chief Economist at the MB Fund and MB Super. Leith has previously worked at the Australian Treasury, Victorian Treasury and Goldman Sachs.
Latest posts by Unconventional Economist (see all)