See the latest Australian dollar analysis here:
Last night's price action in the euro and the US dollar suggested, quite rightly, that the market remains worried about Spain. Indeed the Spanish 10 year yield closed at 7.16% and the euro fell back from the Asian highs.
The Australian dollar on the other hand has been holding in well and sits just below critical support. Support that will determine if this rally has legs or if, alternatively, it is about to reverse back into the 0.99 region.
Looking first at the hourly charts we see that the Australian dollar today loooks to be forming a pennant which suggests a loss of momentum and a potential downside break. You can see in the chart below the strong uptrend from the low earlier this month: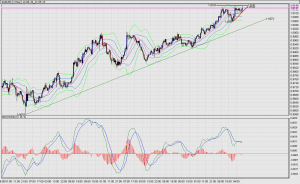 And when you look at the daily charts you can see why the Australian dollar is struggling for further topside momentum today. Certainly the fundamental backdrop of Europe and the extremely short half life of the relief from "Drachmageddon" and the renewed focus on Spain is not helping: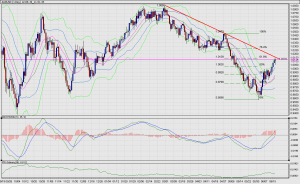 But neither is the big old trendline from the highs earlier this year. Even though this line has only two touches (I always like to see three to have complete faith) this is make or break time for the rally from the lows for the Aussie.
My double Bollinger Band strategy is long Aussie at the moment  with a stop at 0.9920 but the MACD looks like it is getting overcooked.
So traders might want to short some Australian dollars here in front of the trendline and the 1.0139 Fibonacci resistance. Keep your stops tight though because we know the speculative community is heavily short so a stop and reverse might be the order of the day.
Not for the faint hearted of course.
Please remember these are not recommendations for you to trade these are my views and I have my risk management tools and risk parameters that you do not have access to. Thus, this blog is for information only and does not constitute advice. Neither Greg McKenna nor Lighthouse Securities has taken your personal circumstances, objectives or financial situation into account. Because of this you should, before acting on this information, consider its appropriateness, having regard to your objectives, financial situation or needs.