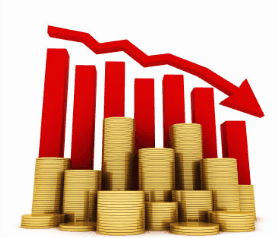 The Western Australian Government has released its 2012-13 State Budget which, like the Victorian Budget before it, contained some nasty downward revisions to projected stamp duty relief due to the sluggish housing market. From Property Observer:
Western Australian Treasurer and Attorney-General Christian Porter says a flat housing market has cost the state government an estimated $836 million in projected stamp duty over the next four years.

In his budget speech to Parliament he said "transfer duty forecasts in this budget have been revised down by $836 million, reflecting ongoing weakness in the housing market"…

"You would hope that it would improve, but right now there is not movement," he said.

"Buyers still think that the bubble that burst after 2005 and 2006's extraordinary growth has not yet quite reached the bottom."

Budget papers show transfer duty was about $1.2 billion for both 2010-11 and 2011-12, a figure expected to go up 17.7% to $1.45 billion for 2012-13. The government predicts a 17.7% rise to $1.45 billion next year, with the start of a recovery in the market.

The budget Porter presented says transfer volumes has been low in recent years but is expected to improve.

"Housing transfer duty has suffered from weak established housing transaction volumes and house prices in recent years, with average monthly transactions since 2008-09 around  35% lower than the previous four years."

"However, transfer duty is expected to improve over coming years in line with a forecast recovery in housing demand"…

"Transaction volumes are expected to move toward a long-run trend over the forecast period, while residential property prices are forecast to increase at a modest rate broadly in line with the expected growth in incomes (of around 5-6% per annum)."

Porter expects in four years, transfer duties will be at lower levels than before the global financial crisis.
The below chart shows the movement in actual and projected stamp duty receipts in Western Australia since 2001-02.  Stamp duty receipts peaked in 2007-08 at $2,243 million before crashing to $1,008 million the following year. Receipts have since recovered somewhat and are predicted to continue improving, but will remain well below the pre-GFC high.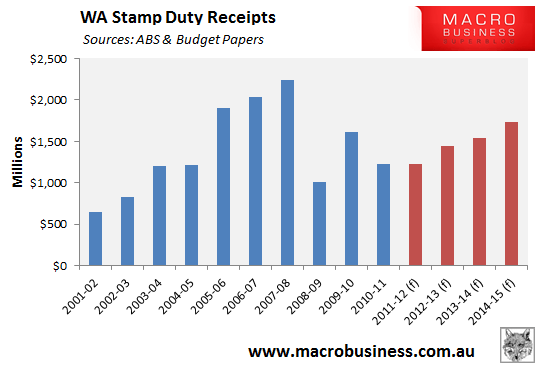 And the reasons behind the slump in stamp duty receipts? You guessed it, lower transaction volumes and prices:
Expect the other states to follow-up with large downward revisions to their stamp duty projections.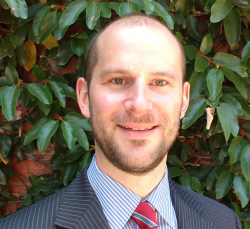 Latest posts by Unconventional Economist
(see all)