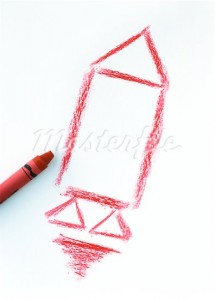 From Wayne Swan's op-ed in today's AFR:
Australia's economy is the envy of the world. Right now, our unemployment rate of 5.2 per cent is below every major advanced economy in the world bar one.

…The IMF has forecast Australia will outperform every major advanced economy this year and next. The budget tonight will forecast growth around trend over the next two years, with real gross domestic product growing by 3.25 per cent in 2012-13 and 3 per cent in 2013-14.

…Despite this increase, there's no doubt that conditions are still challenging for many businesses, particularly due to the high dollar, cautious consumers and ongoing global uncertainty. These challenges are reflected across our patchwork economy, with many businesses under pressure.

With growth returning to trend, it's entirely appropriate that we return to surplus – an approach that I've seen has been rightly endorsed in the Financial Review's editorial pages. And we'll do this despite lower revenues – down by $150 billion since 2008 – which means we'll achieve this surplus by spending restraint.

Just as the government stepped in to support the economy and keep the doors of business open during the financial crisis, the government is now stepping back, ensuring that we don't generate price pressures in the economy. I appreciate there's a debate in the economic community about these matters, but it's worth recalling a few perhaps obvious, though important, points.

As growth returns to trend, unemployment is low, and there is a huge investment pipeline coming through, disciplined fiscal policy gives monetary scope to ease interest rates if needed.
Here is the "trend" in annual GDP since 1992: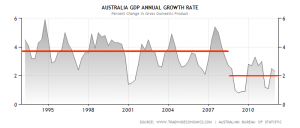 Now, I've just drawn those nice red lines by eye. They look about right, don't they? About "trend"? I haven't done the precise calcs because there really isn't much need. Even using a crayon I can see the Australian economy has broken its pre GFC trend growth of somewhere between 3.5% and 4%. We've been tracking for about four years now at 2%, perhaps a bit more.
On a longer term chart you do get a result somewhere around 3%+ but one wonders about the wisdom of relying on a "trend" that a box of crayons can tell you is questionable.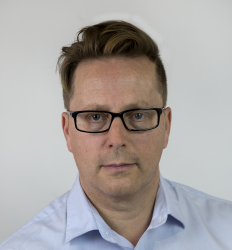 Latest posts by Houses and Holes
(see all)