Market pundits were again surprised by yesterday's trade deficit. Notes from a number of banks expressed surprise and Peter Martin captures the mood this morning:
Unexpectedly bad trade figures for February show income from resource exports down for the second consecutive month.

Over the quarter, income from coal exports fell 19 per cent, and income from metal ores and minerals exports fell 10 per cent.

"The commodity price cycle peaked in the third quarter of last year," said the chief economist at HSBC, Paul Bloxham.

"Indeed, with global growth expected to be below trend and more commodity supply likely to come on stream over the next year or two, it appears likely Australia's terms of trade peaked in the third quarter as well."

…"It's just as well that we don't worry about current account deficits these days," quipped the chief economist at BT Financial Group, Chris Caton.

…"There is no need to hit the panic buttons just yet. Having said all that, the second consecutive trade deficit is is unlikely to ease investor concerns about the extent of the slowdown in China," said an economist at Commonwealth Securities, Savanth Sebastian.
There is no mystery here. As I've been writing for months, the deficit is driven largely by the bulks. The following chart from the RBA says it all: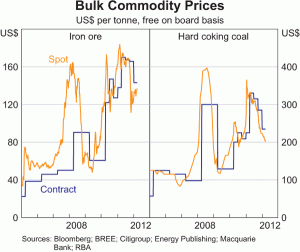 For the past six months, coal shipments have been weakening and although iron ore volume shave held up its price has fallen on greater supply.  Thus the quarterly contract prices (the blue line) have corrected significantly from their post-GFC highs starting in January. It looks like these basic dynamics continued into March with poor outgoing coal volumes from Gladstone Port (below 2009 levels) but strong ore demand showing up in some price pressure. April will see quarterly ore contracts flat (or rising slightly) and coal contracts will fall further. The weakening dollar may help a bit but without a significant correction I expect the deficit to remain for the foreseeable future.
If rate cuts get a response, the current account deficit is going to blow out. Another reason to sell the dollar.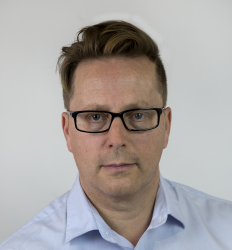 Latest posts by David Llewellyn-Smith
(see all)