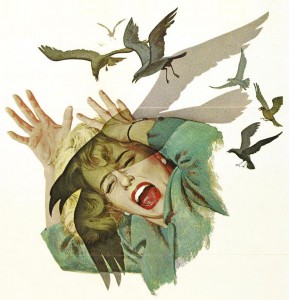 On Friday, Saul Eslake released a note condemning Australian manufacturing to its fate, not to mention condemning outright anyone who sees it as not such a good idea to let Dutch disease have its way. The Merrill Lynch note was a near carbon copy of Canberran rhetoric on the issue and as such is worth examining in some detail.
Over the past year there has been much wailing and gnashing of teeth over the purported demise of Australian manufacturing, as a result of the persistent strength of the Australian dollar and, according to some, a failure on the part of the Australian Government to guarantee local manufacturers a share of the fabrication work associated with major resources developments.

These concerns have prompted renewed calls from some quarters for the RBA to seek to push the A$ down (as some other central banks, such as those of Switzerland and Brazil have sought to do with their currencies), and to implement other proposals to "support" Australian manufacturing. A particularly influential trade union leader, Australian Workers Union national secretary Paul Howes (who was intimately involved in the deposition of former Prime Minister Kevin Rudd in  in Australia that regards manufacturing as intrinsically more valuable than other types of economic activity … which for more than 80 years found expression in high levels of tariffs and other forms of 'protection'

June 2010), this week called for the RBA's 'charter' [sic] to be amended to allow the central bank to target a lower value for the exchange rate (a suggestion which was promptly rejected by Treasurer Wayne Swan). Australians have long harboured the belief that manufacturing is 'more important' than other forms of economic activity. Historically, that's been partly based on the premise that a large manufacturing sector was required in order to provide gainful employment for a growing population on a continent that was otherwise more suited to capital-intensive activities such as farming and mining; and, following Australia's experiences in the 1914-18 and 1939-45 Wars, on concerns that self- sufficiency in a wide range of manufactured goods was essential for 'national security'.

Calls have been growing for the RBA to seek to push the A$ down in order to assist the beleaguered manufacturing sector

Manufacturing has also been traditionally regarded as a way of capturing additional value from Australia's comparative advantages in agriculture and resources; as a means of reducing imports, and hence avoiding the balance of payments difficulties which Australia experienced during the first half of the 20th century; as providing a significant source of 'flow-on' demand for other sectors of the economy; and (as in many other countries) as a driver of innovation and the commercial application of advances in scientific knowledge.

In Australia's case, this enthusiasm for the virtues of manufacturing has traditionally led to a strong constituency for protectionist policies. Most Australians have long believed that tariffs are something governments make foreigners pay to get their goods into the country, as opposed to the reality that tariffs are something that governments force their own citizens to pay in order to keep foreign goods out. A League of Nations study published in 1927 estimated that the average level of Australia's tariffs exceeded that of all other industrial countries except the United States1. Australia, together with New Zealand, opted out of the post-WW II rounds of multi-lateral tariff reductions under the auspices of the General Agreement on Tariffs and Trade (GATT), the predecessor of the World Trade Organization, on the (spurious) grounds that since other industrialized countries weren't willing to reduce their barriers to trade in agricultural goods (which at that stage comprised the bulk of Australia's and New Zealand's exports), Australia and New Zealand wouldn't reduce their barriers to imports of manufactured goods. On the contrary, we continued to increase them: by 1970, Australia's average tariff on imported manufactured goods was more than double that of the US, and half as high again as that for the (then) EEC2.

And, notwithstanding the one-off 25% reduction in tariffs implemented by the Whitlam Government in 1973 (as an anti-inflation measure), during the late 1970s and early 1980s Australia increasingly resorted to non-tariff barriers against imports of manufactured goods – so that by 1983, 25% of Australia's imports of manufactured goods were subject to non-tariff barriers, compared with an average of 15% for all industrial countries3.

The striking thing is that none of this did any good – either for the manufacturing sector, or for the broader Australian economy. Manufacturing's share of GDP fell from a peak of nearly 30% of GDP in the late 1950s to less than 15% in the early 1980s, while its share of total employment fell from 30% in the late 1940s to about 18% in the early 1980s. Even in the most highly 'protected industries' such as textiles, clothing and footwear – where the effective rate of assistance rose from 72% in 1968-69 to 135% in 1982-83 – employment fell by 44%, and the share of imports in domestic sales rose from 22% to 35% over this period4.

Meanwhile, in contrast to every other 'advanced' economy (bar New Zealand), the proportion of Australia's GDP which was internationally traded declined (by around 7 percentage points) between the 1950s and the early 1980s; and Australia's relative position among industrial countries ranked by GDP per capita slipped from fifth in 1950 to 14th by 19835.

From the mid-1980s onwards, both major political parties began to accept the case which had been put since the early 1960s by a small number of economists, journalists, civil servants and backbench MPs that the Australian economy and Australian people had been ill-served by this long-standing tradition of protectionist policies. Labor Governments under Prime Ministers Bob Hawke and Paul Keating, with the active support of the then Liberal Opposition, began dismantling Australia's regime of import restrictions, a policy which continued under the subsequent Liberal-National coalition Government led by Prime

Minister John Howard. The effective rate of 'assistance' (through trade barriers) to manufacturing fell from 24% in the mid-1980s to less than 5% by 2000.

Manufacturing has continued to decline as a share of GDP and of employment – but at no faster a rate than during the 'protectionist' era. In 2011, manufacturing accounted for 8.2% of GDP, down from 13.2% in 1985 (a decline of 5.2 pc points, compared with a decline of more than 15 pc points over the preceding 25 years); while manufacturing's share of total employment declined from 16.1% in 1985 to 8.4% in 2011 (a decline of 7.7 pc points, compared with a decline of over 12 pc points over the preceding 25 years). Note that this includes periods when the Australian dollar has been very weak (in the mid-1980s, the early 1990s, and the late 1990s-early 2000s) as well as when it has been very strong (as in most of the last four years).

These comparisons highlight the fundamental point that the most important reason for the decline in manufacturing's share of economic activity (however measured) in Australia, as in other 'advanced' economies, is that as people's incomes rise over time, they typically spend an increasing share of their incomes on services, and a diminishing share on goods.  Thus, in 1960, 48.5 cents out of every dollar that Australian households spent was spent on goods; in 2011, only 24.3 cents of every dollar spent by Australian households was spent on goods.

If manufacturing accounted for the same proportion of the Australian economy that it did fifty years ago, then unwanted goods would be piling up in factories, warehouses and retail stores across the country, and Australians would be complaining about their persistent inability to obtain the services they want (even more than they actually do).
That's a nice potted history. And I agree with much of it, with the exception of framing Australian manufacturing as the projection of some dated working class neurosis. There are very real strategic imperatives for keeping an industrial base intact, unless you want to argue that war is a thing of the past, in which case I'll happily doff my hat as you pass into your gleaming utopia. The point is not that strategic imperatives no longer exist, it is how to balance them against the need for a productive and competitive industrial base which, to say the least, Saul Eslake is giving short shrift. Back:
And because Australia isn't Germany – we haven't invested (over decades) in accumulating the knowledge and skills required to become internationally competitive exporters of manufactured goods, and (even if we had) a much smaller domestic market (having regard to the fact that Germany's 'domestic market' includes all the other members of the EU) and the much greater distance from potential export markets would have constituted additional formidable obstacles to Australia emulating Germany's success as an exporter of manufactured goods – it would not have been feasible for Australian manufactures to have exported the difference between what they produced, and what Australian consumers wanted to purchase.
This is a simple inductive fallacy that boils down to 'because it ain't been done it won't be done' and is not actually an argument at all. As for scale, are Australian manufacturers in Asia? Is Germany? Moreover, are you really telling me that in areas like metals processing we don't have a competitive advantage in the proximity of the largest input? Back:
A fundamental point which many Australians seem to have difficulty grasping is that the sum of the shares of GDP of all the various sectors of the Australian economy cannot exceed 100%. If Australia is to have a larger mining sector (as a proportion of GDP) than most other 'advanced' economies – which is a reasonable expectation given this country's relatively greater endowment of mineral and energy resources than other 'advanced' economies – then by definition one or more other sectors have to be smaller as a share of GDP than in other advanced economies.
No problem here. But the question is, who should wear the adjustment to lower output? Saul has no doubt:
And given that most services are intrinsically non-tradeable (although advances in information and communications technology, and falling travel costs, are altering that at the margin), it similarly stands to reason that the sectors which are going to be smaller, as a proportion of GDP, in Australia than in other countries will most probably be manufacturing and those types of services which are tradeable.
I find the reasoning here rather hard to follow. Why, because the boom is in the tradeable sector does that mean that the other components of production that must give way must also to be in the tradeable sector? You could pull any number of levers to change who wears the adjustment. There is no economic rationale apparent in this statement at all.  And in fact, I would argue, that in the new normal – in which national economies are much more risk-weighted based upon their current account performance -such an unsubstantiated statement makes very little sense at all. Given that, surely it makes more sense to correct parts of the economy that are causing the current account to remain in deficit, like, Heaven forbid, financial services!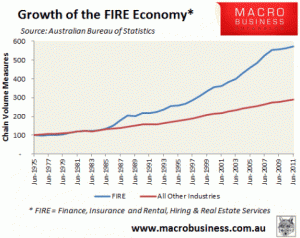 Back:
Similarly, if the mining sector is to expand as a share of GDP – which it must if Australia is to make the most of the once-in-human-history opportunities associated with the urbanization and industrialization of the two most populous nations on Earth (because if our mining sector isn't allowed to take advantage of those opportunities, then the mining sectors of countries like Brazil, Canada, South Africa, Kazakhstan, Mongolia and the like surely will) – then some other sector or sectors must shrink as a share of GDP (though not necessarily in absolute terms). And again, common sense suggests that the most likely candidates for that are the manufacturing and trade-exposed services sectors.
Common sense? Is that an argument? Back:
If there were strong grounds for believing that China's and India's demand for the mineral and energy resources with which the Australian continent has been so richly endowed by nature would peak within (say) the next two years and then fall away sharply, there might well be a good case for policy to seek to restrain the expansion of the mining sector, in order to avoid what would then be a wasteful mis-allocation of labour and capital.

But there are in fact no grounds for believing that the present mining boom will come to such an abrupt end: on the contrary, it is more likely to last for at least another decade (albeit that it will henceforth likely be characterized by falling commodity prices and rising commodity export volumes, the opposite of the past eight years).
No reason? How about China is a half-caste communist state with a dangerously distorted fixed asset investment growth model that has natural debt limits and a political economy that is nothing more than a grand experiment? We've already seen how such grand experiments in political economy can come a cropper, in the EU for example. Doesn't mean it will, but there is every reason to think that it may. Back:
More than any other single factor, the unwillingness of the Australian people (and their governments) to accept that the sum of the various sectors' shares of GDP can't exceed 100% – and hence the desire to prevent some sectors of the economy from shrinking as a share of GDP so that others can expand – lies behind the fact that every commodities boom in Australia's history has ended in a burst of double-digit inflation.

All of Australia's previous commodities booms have occurred under a fixed exchange rate regime: and during previous commodities booms, Australian governments either refused to allow the exchange rate to appreciate at all, or allowed it 'too little and too late'.

Australia's floating exchange rate regime (which was adopted after the collapse of Australia's last 'resources boom' in the recession of the early 1980s) offers the best opportunity we have of not repeating our history of mismanaging episodes like the present one. A deliberate attempt to push the A$ lower – in the absence of offsetting changes in other areas of economic policy (such as tighter fiscal policy) – would likely instead condemn the country to repeating that history.

The strength of the exchange rate over the past few years clearly has been to the detriment of Australian manufacturing (as it has been for tourist operators and higher education institutions, among others, although they don't seem to attract the same degree of sympathy and concern as manufacturing, despite employing a roughly similar proportion of the workforce). Manufacturers' profit margins, for example, have clearly declined since the mid-2000s – although they are still higher than they were in 2000-01, when the A$ was around US50¢.

But since the A$ most recently bottomed – in 2Q 2009 – manufacturing output has actually risen by 9.3% – more than the economy as a whole (the production-based measure of GDP has risen by 7.0% over this interval), and, perhaps ironically, more than output of the mining sector (which as measured by its real gross value-added has increased by 8.1% over this interval).

It's true that employment in manufacturing has declined (by more than 5%) over this period, during which employment in other sectors has risen (also by more than 5%); and it's understandable that this is of concern to unions representing manufacturing workers. But this is (in effect) the result of efforts by manufacturing firms to improve their productivity, which is something manufacturers have to do if they are to remain competitive through what may well be an extended period during which the A$ stays at elevated levels by historical standards.
Manufacturing has been in recession for eighteen months. It bounced along with all other countries in the post-GFC stimulus period which is distorting the figures. Manufacturing exports are running at close to 05/06 levels. At the same time, I agree that piecemeal intervention is not the answer. Most especially because that will achieve nothing so long as the economy remains close to capacity. But interest rate protection is an answer that would still enable competitive forces to determine competitive advantage. Finally:
In other words, reports of the 'death of manufacturing' are (like those of the death of Mark Twain) somewhat exaggerated. There's no compelling reason to think that Australian manufacturing will not survive, as long as governments don't handicap the efforts manufacturing firms are now making to improve their productivity and competitiveness. But nor are there any valid reasons to alter the RBA's mandate, or provide other forms of preferential policy treatment for the manufacturing sector, out of a belief that it is an inherently more valuable form of economic activity than any other.
There are two reasons why we should not let Dutch disease take its course. Strategic imperatives and the fact that manufacturing is in the tradeable sector. Destroying exports to make room for other exports is not very sensible in the new normal.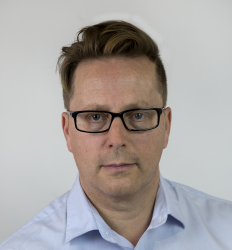 Latest posts by David Llewellyn-Smith
(see all)