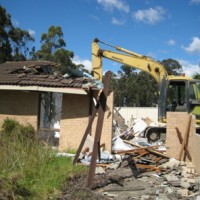 Cross posted with permission from Capital Appreciation: 
Over the past decade the knock down rebuild (or KDR) phenomenon has been very popular in Canberra and other parts of Australia. Knock down rebuild essentially involves buying and demolishing an old house on a good block, and then rebuilding your own new home. In Canberra, knock down rebuilds have spread like the plague – try googling the terms knock down rebuild Canberra just to see the number of builders, architects and companies looking to get a piece of the knock down rebuild action.
The most popular locations for knock down rebuilds in the ACT have been the inner south and inner north suburbs. In these suburbs there is an abundance of old modest houses on large sized blocks in highly desirable locations. During the property boom over the last decade, knock down rebuilds have begun to change the face of these older suburbs, and I'm sure we are all familiar with the telltale sign of a knock down rebuild in the capital: the tall metal fencing that adorns the property boundary and the roadside trees.
While knock down rebuilds have been very popular in Canberra over the last decade, their popularity seems to be waning along with the rest of the real estate market. During the property boom, properties with knock down rebuild potential would typically go to auction, which generally resulted in high prices significantly above the unimproved land value. However, over the past year such properties aren't generally going to auction. Instead, they tend to be sitting on the market for longer and are selling for closer to the unimproved land value.
One property result in last week's Canberra Times that caught my eye was 34 Fergusson Crescent in Deakin. This property sold in early 2010 for $840,000 as a simple 3 bedroom, 1 bathroom home. However, in 2012 it has sold for only $827,500 after about six months on the market, but this time as vacant land. So the previous owners have lost a lot of money over two years pursuing the knock down rebuild process. All up it's likely to have cost them around $100,000 or about $1000 per week, once you include costs for the ACT government stamp duty on the original purchase (because it doesn't look like they rented the property prior to demolition), demolition costs, other ACT government planning and approval fees, building and/or architect planning fees (yes they had building plans), the real estate agent's sales commission, plus any bank loan fees and interest. The bank loan interest is the unknown in the equation.
If the previous owners did borrow most of the money, then their true losses could balloon to closer to $200,000 for the failed knock down rebuild.
Another knock down rebuild story in Deakin that has not quite gone to plan is 18 Barron Street in Deakin. This property last sold in 2009 for $735,000 before it was knocked over in 2010 and replaced with a new 3 bedroom, bathroom and ensuite home. It's now been on the market at $1,150,000 for nearly one year now after failing to sell at auction. The vendors haven't moved on price either, presumably because they need a sale at that price to break even.
I'm sure there are plenty of knock down rebuild success stories in Canberra. Either owners enjoying the comforts of their new homes or investors, builders and developers who have profited from knock down rebuilds. However, in the current market a knock down rebuild is a risky process. In both of the above examples it's likely that the vendors never imagined the property market turning against them, and in the first example, costing them a lot of money. Some that have bought knock down rebuilds in Canberra in the past have relied on rising property prices to gain further leverage from the bank when they go to build.
Remember the old 'Equity Mate" ads! But this approach will not work now and could be the reason for the first example above going to sale as a cleared block of land. The other problem with knock down rebuilds is that they tend to cost more and take longer to complete than initially imagined. As a result they can end up costing more than equivalent properties already listed for sale.
Latest posts by MacroBusiness
(see all)