ANZ has an interesting note out today asking the suddenly all too real question:
HAS THE UNEMPLOYMENT RATE PEAKED?

•Employment rose by 44k in March, well above market expectations of +6.5k. The unemployment rate was steady at 5.2% (mkt: 5.3%), and has been broadly stable since July 2011.

•In a trend sense, the multi-speed nature of Australia's economy is alive and well in the data. WA's labour market has tightened considerably relative to the rest of Australia. Nonetheless, labour market conditions in NSW have also improved in recent months.

•The better-than-expected data saw the AUD jump around ½ a cent against the USD shortly after the release and cash rate futures sold off modestly.

•RBA watch: we still expect the RBA to ease by 25bps on 1 May, pending a benign Q1 CPI inflation outcome on 24 April. However, today's labour force data, coupled with recent modest improvement in other domestic activity indicators, make selling a May rate cut more difficult for the RBA (one wonders if they now wish they had cut in April). Importantly, current evidence casts significant doubt on calls for a follow-up rate cut soon after May – recent job ads data may be telling us that the unemployment rate has already peaked (Figure 1).
The broader definition Roy Morgan unemployment series continues to show significantly less work available to those who want it and the NAB Business Survey also has ongoing weak employment intentions so I'm not fully convinced we've seen a peak. There is also the simple fact that the declining participation rate has disguised a decent rise towards 5.8% or so already.
But we are seeing all sorts of peculiar data outcomes for the simple reason that the changes underway in the Australian economy are unprecedented: a slow melt in credit issuance, as well as a terms of trade driven adjustment in the tradeables sectors. These other traditionally reliable data series could be getting it wrong. And as you can see, so far, the ANZ job series has tracked the unemployment rate very nicely.
I can't discount a peak in the unemployment rate but I can't yet believe it either. Check out the state by state break down of the job ads: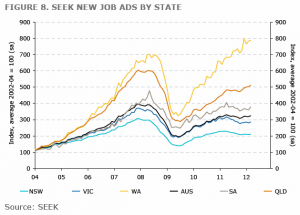 That is most of the economy going sideways. To me it is very unlikely that these adjustments can transpire smoothly. Labour is not especially fungible. Just because someone loses a job in Victoria, doesn't mean they'll be retrainable for one in the Pilbara, or willing to move there. Having said that, Australians are a redoubtable bunch.
At the very least, the ANZ job series must take on greater importance for economic watchers. I have been bearish on employment since mid last year but am now definitely bringing in my unemployment forecasts for the immediate period ahead.
Taking a bigger picture view, it is perhaps not surprising that unemployment has been capped with the government not yet returning to surplus and private credit creation, whilst decelerating, not negative. The second half remains an open question, if the government pursues its surplus and the net effect of a trade deficit and weak private credit does not take up the slack.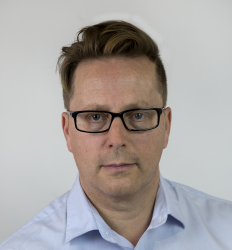 Latest posts by David Llewellyn-Smith
(see all)