The AFR this morning has an interesting survey of how Australian's perceive the benefits of the mining boom. Here's the chart of the results: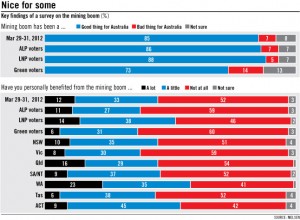 The AFR represented these results as "mining boom benefits go unsung". I'm not so sure. The one unequivocal general benefit of the mining boom is invisible. That's because it is the avoidance of a counter-factual. If there had been no mining boom, then it is likely that unemployment would be closer to 10% and asset prices likely much lower. It has been the attractiveness of Australian mining assets and associated capital flows, as well as the high income growths associated with record terms of trade, that have together supported the adjustment to lower levels of borrowing in the household sector without tipping into outright deleveraging.
As Glenn Stevens has confessed, this adjustment would have had to transpire anyway. To imagine what that would have been like without a mining boom, one need only take a quick glance at any number of other Western countries where asset prices have corrected.
I'm not sure if this widely understood but the results of survey certainly support the contention. Seeing the boom as of big benefit nationally without so much personal benefit fits the bill.
There is grist in this survey for both the government and the mining anti-tax lobby.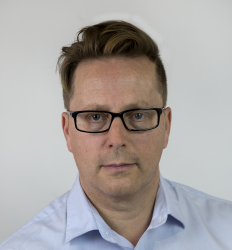 Latest posts by David Llewellyn-Smith
(see all)