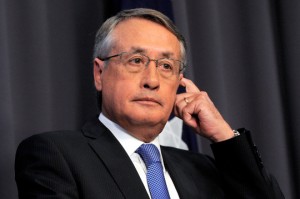 Cross posted with permission from Capital Appreciation – will this also apply further afield, with public sector job losses mooted in Queensland?
Yesterday's Canberra Times article on the federal government public service job cuts is likely to be one of many media articles covering this issue in the coming months. So far around 1500 job cuts have been announced across different departments, with most of the cuts affecting Canberra public servants. The long list of job cuts includes:
around 300 at the Department of Climate Change and Energy Efficiency,
66 at the Department of Regional Australia, 150-200 at Treasury,
500 at the Department of Education, Employment and Workplace Relations,
50 at the Australian Bureau of Statistics,
11 at Customs,
100 at the Department of Resources, Energy and Tourism,
90 at the Department of Veteran Affairs,
50 at ComSuper,
70 at the Fair Work Ombudsman,
17 at the National Gallery of Australia,
11 at the National Library,
seven at the National Film and Sound Archive and
20 at the National Museum.
I'm sure I have missed some too.
The big unknown is that there are still many government departments who are yet to announce their job cut numbers. As a result, the final number of public service job cuts is likely to far exceed 1500. There's also a rumour that the dreaded efficiency dividend could go as high as 5%. These kinds of cuts to federal public service jobs and budgets will also have flow on effects to the ACT private sector, which relies heavily on a happy and healthy public sector. The timing is not great either with the Australian unemployment rate expected to trend upwards during 2012.
Such cuts to jobs and budgets will surely also have a negative impact on property prices. Already we are seeing signs of declining confidence with the auction clearance rate teetering around 25-30%. One wonders how low the clearance rate can go. ACT property sale listings have declined slightly in the past 1-2 weeks but the number of listings remains near record highs. There is also significant residential property construction occurring, which will see further properties hit the market in the near future. The above job losses should lead to additional properties for sale but will there be a declining number of buyers with the confidence to purchase?
The clincher will be what Canberra property investors and downsizing retirees choose to do in this uncertain economic climate.
Latest posts by MacroBusiness
(see all)