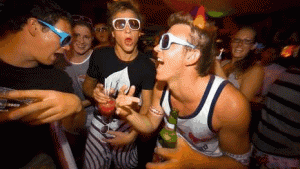 By Leith van Onselen
The Australian Bureau of Statistics (ABS) has just released overseas short-term arrivals and departures figures for February which, despite some improvement over the month, capped-off another poor year for the tourism industry.
Short-term resident departures fell by -1.4% in February in seasonally adjusted terms, whereas short-term visitor arrivals rose by 1.1%. By contrast, in the 12 months to February 2012, the annual number of depatures increased by 8.5% relative to the corresponding period of the prior year, whereas arrivals actually fell by -0.2%.
Taking a longer-term view, the ratio of annual tourism arrivals to departures has also plummed a new 25-year low (see below chart). Little wonder the domestic tourism industry is reeling!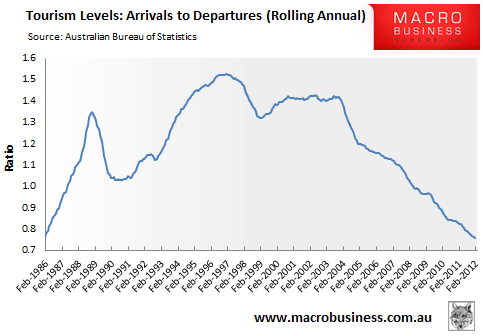 And as pointed out above, the fall in the ratio of arrivals to departures has been caused predominantly by an exodus of Australians choosing to travel abroad rather than domestically:
In the year to February 2012, 7.8 million Australians holidayed overseas – more than double the level of 10 years ago (3.4 million). This compares to only 5.9m tourist arrivals over the same period (4.8 million 10 years ago).
South East Asia (particularly Indonesia and Thailand) remains Australia's favourite holiday destination, receiving 32% of Australia's departures in February 2012. This was followed by Oceania (21%), the Americas (13%), North East Asia (11%) and North West Europe (10%):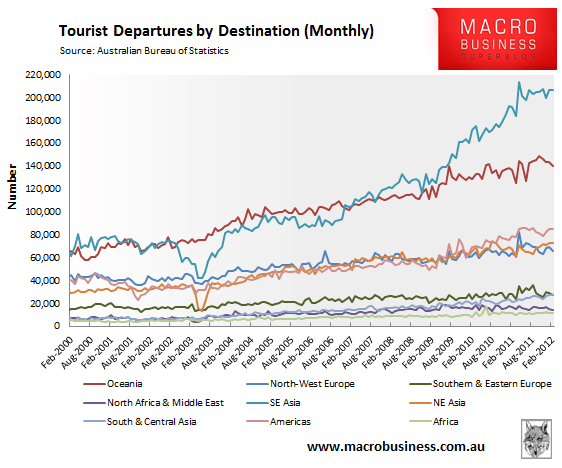 Again, the Aussie bogan's penchant for Bali and Thailand, in particular, is driving much of the decline in Australian tourism, with yours truely adding to February's Thailand departures: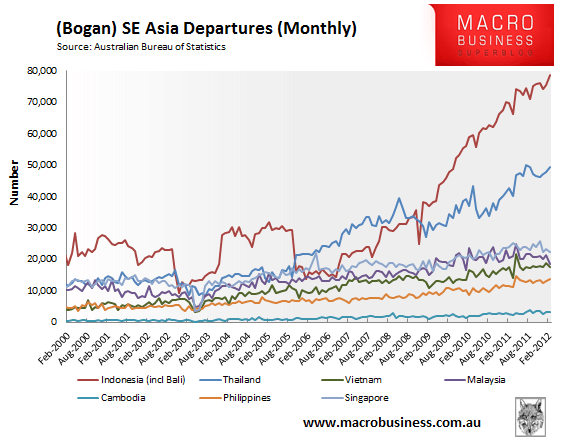 By contrast, the most foreign visitors to Australia came from Oceania (mostly New Zealand) and North East Asia, which each accounted for 23% of arrivals in February 2012. This was followed by North Western Europeans (18%) and South East Asians (15%):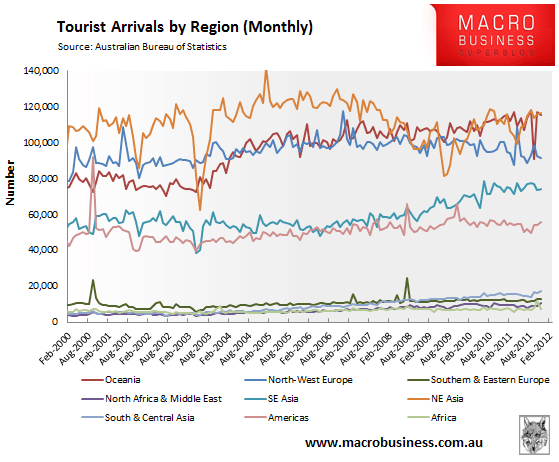 The Australian tourism industry will obviously continue to struggle as lon as the Australian dollar remains elevated, which is driving more Australians to holiday offshore whilst also discouraging foreigners from holidaying in Australia.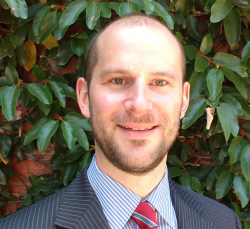 Latest posts by Unconventional Economist
(see all)