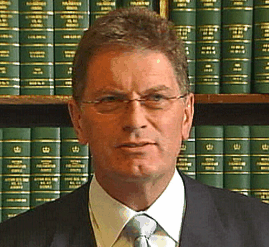 By Leith van Onselen
Recent macroeconomic data coming out of Victoria has been poor.
Since house prices peaked in the June quarter of 2010, Victorian economic growth, as measured by state final demand, has severely underperformed the national average, growing by only 1.8% in real terms since June 2010 – less than population growth: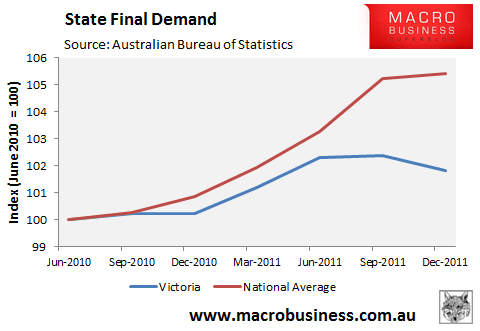 It's a similar story with employment. Over the past 12 month's, total employment has fallen in Victoria by -1.2% (-33,600) compared with 0.2% (22,300) of jobs growth nationally: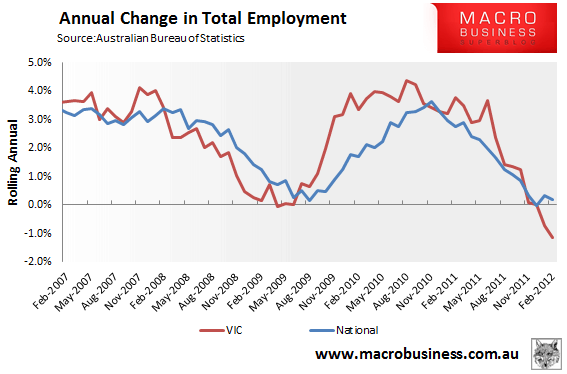 Melbourne home prices have also been falling, down -5.4% over the past 12 months according to RP Data:

And we know from the State Government's data that property transfers aand mortgage growth are in the doldrums too: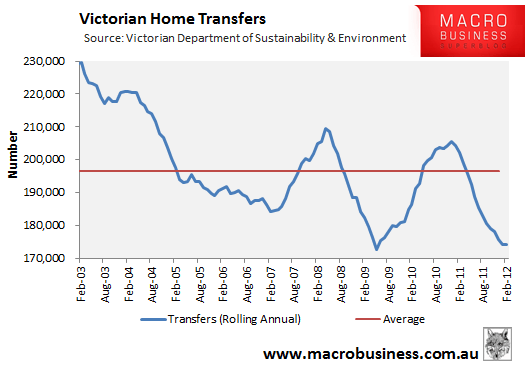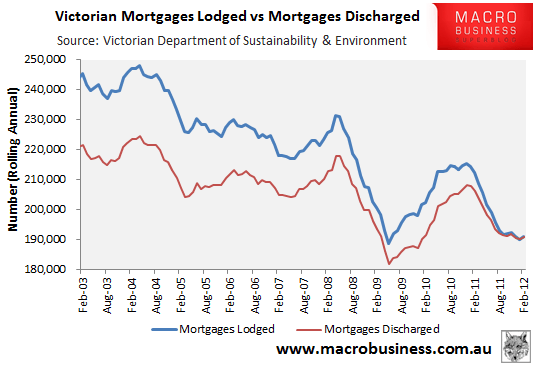 Now the worsening macroeconomic conditions are adversely impacting state government finances, with a Victorian Treasury budget update revealing that Victoria recorded a $341 million deficit during the second half of 2011, compared with a surplus of $482 million over the same period in 2010 [my emphasis]:
The state budget has fallen deeply into the red as the strong dollar, a housing slowdown, international uncertainty and job losses hit the bottom line…

Treasury warned the results were an "imperfect guide" to the 2011-12 financial year, because they did not include revenues increases that tend to be recorded during the second half of the financial year such as land taxes, or delayed payments from the Commonwealth for the regional rail project and the Victorian Comprehensive Cancer Centre project.

But the report said the economy was facing "headwinds" including the strong dollar, which has dramatically cut the competitiveness of local manufacturing. Treasury also said employment growth had softened, while fewer house sales was crimping stamp duty collections.

"Weak consumer sentiment is also dampening consumer demand, which has been reflected in the relative poor performance of the retail sector," it said. "These conditions have translated into a softening of State taxation revenue and goods and service tax receipts."

Today's news comes after The Age last week reported Victoria was on the brink of recession and South Australia and Tasmania were already in one.

The figures suggest the state government is facing an uphill battle to deliver on a promise to produce surpluses of at least $100 million. Stamp duty collections were particularly weak, with the government collecting $1.7 billion during the final six months of 2011, compared to $2.1 billion in the same six months of 2010.
The last point – the reduction of stamp duty receipts – is key to why the Victoria Government's finances are under pressure. Victoria has the highest level of stamp duties in the nation, with around $21,000 payable on a median priced house: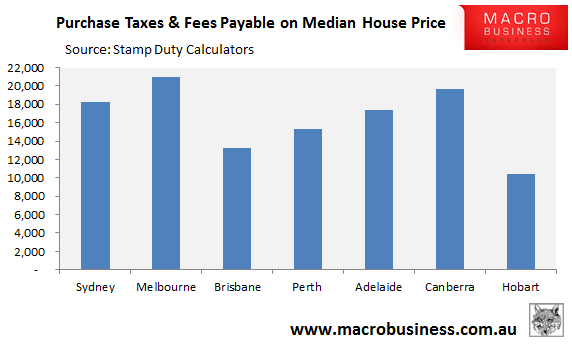 Over the past decade, as Melbourne's home prices skyrocketted, stamp duty and land tax receipts rose significantly, from around $1.3 billion in 1997-98 to around $5.3 billion in 2010-11: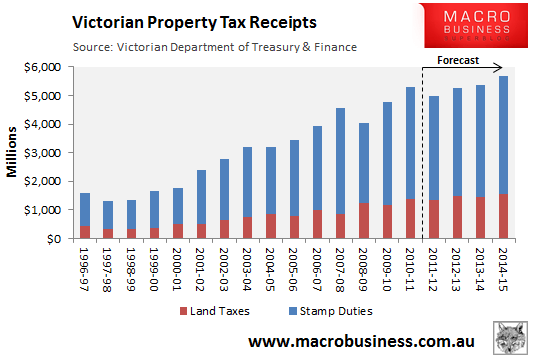 With property prices and stamp duties growing strongly, property taxes' share of total tax revenues rose sharply, from around 15% in 1998-99 to a around 36% in 2010-11: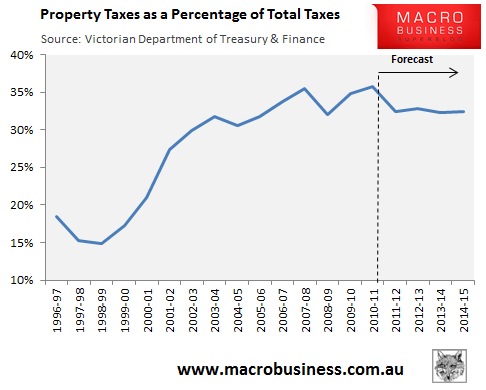 The explosion of property tax receipts on the back of the booming housing market also enabled the Victorian Government to maintain a surplus in spite of strong growth in government employee wages and salaries: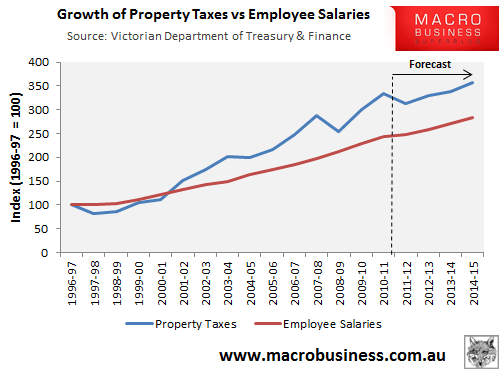 However, now that transaction volumes have slowed significantly, and home prices have fallen, stamp duty receipts are on the decline. The most recent Victorian Treasury Budget Update revised down the State's stamp duty receipts by $116m in 2011-12 – a forecast that seems wildly optimist given the above report of a $400m decline in stamp duty receipts in the second half of 2011 compared with the same period in 2010: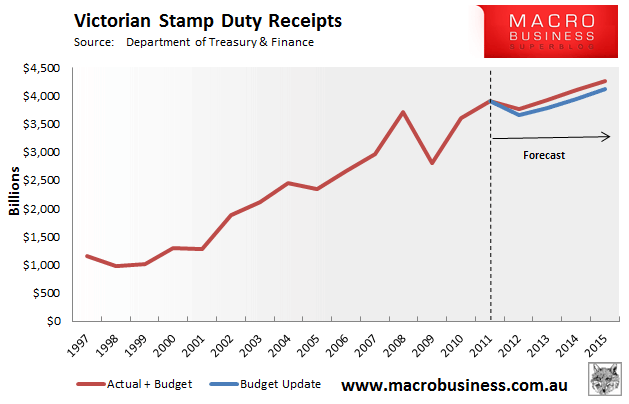 The Victorian Treasury has also ambitiously forecast that the decline in stamp duties will be a temporary blip only, with stamp duty receipts expected to hit new highs of $4.1 billion in 2014-15, an increase of $213m on 2010-11 levels.
An added worry for the Victorian economy is that dwelling construction, which has for so long been a key driver of employment and growth, is beginning to fall from record highs, although it still remains elevated: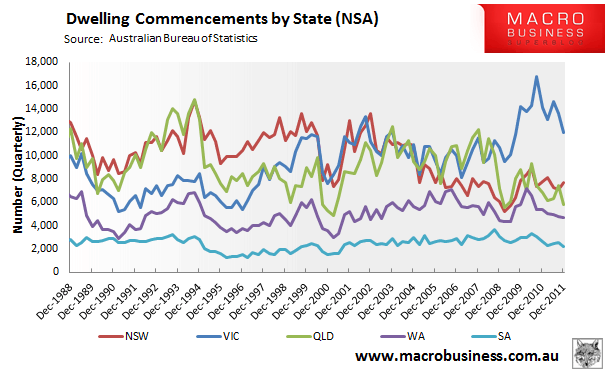 Should the downward trend in dwelling construction continue – and I see no reason why it wouldn't given Victoria's relatively high rental vacancy rate (currently 3% according to SQM Research), elevated stock on market, and plummeting new home sales – there would obviously be further negative consequences for employment, growth, and Government finances.
Expect State Government finances to worsen from here.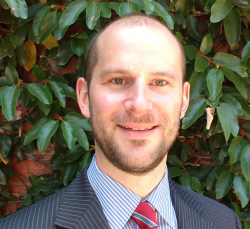 Latest posts by Unconventional Economist
(see all)