As I've said before, the Australian Industry Group's services PMI (Purchaser's Management Index), known as the PSI (Performance of Services Index), is of questionable use. As the below chart shows, it recorded poor growth in 2010 and better in 2011, which is pretty clearly the opposite of what actually transpired for services.
Nonetheless, it is worth nothing that the index stumbled nastily in February: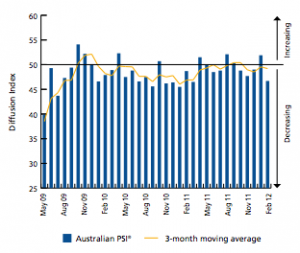 Service sector activity fell in February according to the latest  seasonally adjusted Australian Industry Group/ Commonwealth Bank Australian Performance of Services Index (Australian PSI®)  which was down 5.3 points to 46.7 in the month.
And in three-month-moving-average terms, the Australian PSI® has  remained below the critical 50 point level for four consecutive months.
Reports of declining activity levels in February were common across  the sector, with businesses reporting that sales, new orders and  employment levels all fell back in the month.
The new orders component of the Australian PSI® recorded a  particularly sharp fall, and is now at its lowest level in over 12 months.
In line with these soft trading conditions, the average selling price index declined in February, and is also at its lowest level in over 12 months.
Here's the chart: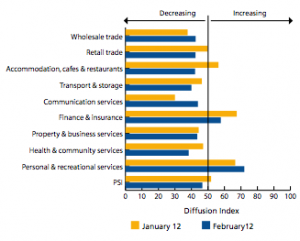 And the components:

New orders is the leading indicator so that's the worry.