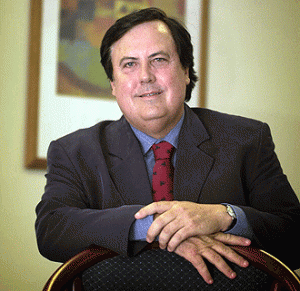 Yes, I'm on holiday this week but wouldn't you know it that's always the time your industry enters meltdown! The AFR today has an incredible story about the latest move in the "miners versus the government" debate. Clive Palmer is proposing to establish a Guardian-like trust for Australian media assets.
For those that don't know, the UK Guardian is backed by the Scott Trust. From Wikipaedia:
The Trust was established in 1936 by John Scott, owner of the Manchester Guardian (as it then was) and the Manchester Evening News. After the deaths in quick succession of his father C. P. Scott and brother Edward, and consequent threat of death duties, John Scott wished to prevent future death duties forcing the closure or sale of the newspapers, and to protect the liberal editorial line of the Guardian from interference by future proprietors.

…The eight initial trustees of the 1948 Trust were all connected with the Manchester Guardian and Evening News, Ltd., and included four of C. P. Scott's grandsons as well as the then editor of the M.G., A. P. Wadsworth. It has become normal practice for a Guardian journalist to be a member of the trust, though he or she is not considered to be a "representative" of the staff, as this may result in a conflict of interests.

…The Trust is responsible for appointing the editor of The Guardian (and those of the group's other main newspapers) but apart from enjoining them to continue the paper's editorial policy on "the same lines and in the same spirit as heretofore", has a policy of not interfering in their decisions. This arrangement tends to give editors a long tenure – for example, the present incumbent, Alan Rusbridger, has been there since 1995. GMG's acquisition of The Observer, however, was followed by a quick succession of editors, amid reports of intrigue and accusations of interference.

In 1992, the Trust identified its central objective as being the following:

To secure the financial and editorial independence of The Guardian in perpetuity: as a quality national newspaper without party affiliation; remaining faithful to liberal tradition; as a profit-seeking enterprise managed in an efficient and cost-effective manner.
The Trust sees its main functions as being the following:

To secure the Trust's own continuity by renewing its membership and by dealing with threats to its existence;
To monitor the organisation, financial management and overall strategy of the Group, holding the board accountable for its performance;
To appoint and 'in extreme circumstances' to dismiss the editors of The Guardian and The Observer,
To act as a 'court of appeal' in the event of any dispute between the editorial and managerial sides of the operation.
Now from the AFR:
Billionaire mining magnate Clive Palmer has flagged plans to establish a Guardian newspaper-type "blind trust'' to invest in Australian media to ensure diversity and stop independent newspapers going bust.

Mr Palmer, with net worth estimated at more than $5 billion, told The Australian Financial Review he was "looking at media very strongly'' as an investment opportunity in ­partnership with other wealthy ­Australians who would contribute to a trust-type arrangement.

He made it clear Fairfax Media, the publisher of the Financial Review, The Sydney Morning Heraldand The Age, was at the top of his ­priorities list and said of the com­pany's titles: "We've got to keep them going, and hopefully we can boost circulation."

…As part of his free speech crusade, Mr Palmer said he was studying various ownership arrangements – including the Scott Trust that controls The Guardian in Britain – as a possible model in Australia where "you would put your money into a blind trust''. This would preclude interference in editorial decisions. "You'd get a return and you'd get good journalism,'' he said.

Mr Palmer said contributions to a trust would be capped at 5 per cent.

…He would not disclose the identities of other wealthy individuals who might invest in a media trust-type arrangement, but he said fellow miner Mrs Rinehart, who already has 12.58 per cent of Fairfax, was not party to his plans at this stage.

Mr Palmer would not preclude investment in other forms of media, including radio and television, but it was clear his prime interest was ­newspapers.

…Mr Palmer made it clear that capping the contributions to a trust would prevent any one individual exerting disproportionate influence.
This is a nice move by Mr Palmer. The Scott Trust is a darling of the UK liberal establishment and such a vehicle makes sense for Australian media assets given their vulnerability to both interests and commercial breakdown.
Moreover, if this is no more than a thought balloon, Mr Palmer can point the finger at everyone else's callous disregard for Australian democracy.
If it comes to fruition, then Mr Palmer will also have bought himself some media protection. Although the proposed structure would defray ownership, it is still likely to apply a degree of moral suasion to editorial decisions about trustees. Editors are people too. That influence might be more or less than a listed structure with shareholders but would certainly be preferable to the implicit influence of a dominant shareholder.
The other question, of course, is what kind of values will the trust seek to perpetuate? All media has a point of view.
Still, in principle, this is a fine idea that I have toyed with trying to pull off myself on occasion.