Not that it was big to begin with but at least we're still positive: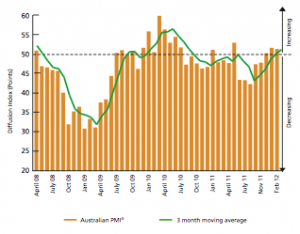 Here's the details:
Manufacturing activity increased again in February, albeit at a slightly slower pace than a month ago. The seasonally adjusted Australian Industry Group-PwC Australian PMI® fell 0.3 points to 51.3. (Readings above 50 indicate an expansion in activity,with the distance from 50 indicative of the strength of the increase.)

■ The increase in manufacturing activity was largely attributed to significant expansions in the clothing and footwear and transport equipment sub-sectors, which more than offset considerable contractions in the wood products and furniture; paper, printing and publishing; fabricated metals; and miscellaneous manufactures sub-sectors.
■ While new orders picked up in February, survey respondents remained cautious about the outlook, citing softer demand, the strong Australian dollar, the impending carbon tax and import competition.
■ Wages and input costs continued to rise in February, while the decline in selling prices persisted, pointing to a narrowing of manufacturing profit margins.
■ Western Australia recorded the strongest expansion in manufacturing activity.
In the components, it was all about clothing and transport: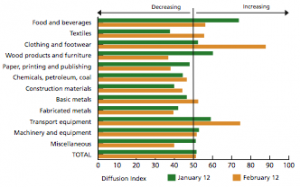 So it looks like we're finally getting some flow through from the mining boom. And not only that, there was a solid jump in new orders and a big jump on export orders:

Fantastic news, that. Who knows, perhaps we are seeing some adaptation to the higher dollar, though I remain cautious after just one release.
Interestingly, the Australian PMI appears now to be outperforming just about everyone else, with exception of the US. Getting a few scared cows slaughtered this morning!