An hour out from February Labour Force figures and I've discovered I forgot to post the DEEWR Skilled Vacancy report.
It showed a small rise in seasonally adjusted terms:
Seasonally Adjusted

Monthly Change

Increased by 1.9% to 86.0 (Jan 2006 = 100)
Increased in all eight occupational groups
Strongest rises recorded for Machinery Operators and Drivers (up by 3.6%), and Sales Workers (2.9%)
Increased in five states

Annual Change

Decreased by 4.9%
Increased in three of the eight occupational groups
Strongest rise recorded in Community and Personal Service Workers (up by 6.7%) and Machinery Operators and Drivers (1.9%)

Increased in the Northern Territory (up by 19.8%), Queensland (19.5%) and Western Australia (13.2%)
Here's the chart: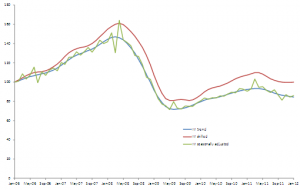 And here's the sectoral split: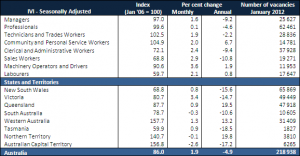 As you can see there is sudden jump in demand for Victorian truck drivers.
There is a little bit of support here for the ANZ Job Ads series, which has dramatically turned around in the new year, but not a lot. The trend is still down.
If anything, this report adds to the confused data around the labour market at the moment.
Full report below.