We don't actually have GDP by state until later but a reasonable proxy is state final demand. The quarter was a different mix to much of last year with QLD leading quarter on quarter growth at 1.2%, NSW next on 0.8%, SA third on 0.2%, VIC entering recession territory on -0.5% and WA making a mockery of that claim getting hammered backwards -2.4%. Here's a chart of the growth rates: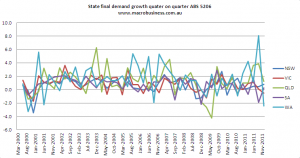 As you can see, the trends in the charts tell a different story. WA was correcting after the Sep QTR surge and the eastern states quarterly growth rates look to be sliding. Here's another chart of aggregate growth: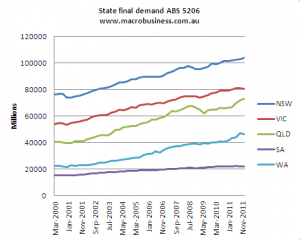 VIC and SA look in real danger of actual recessions. NSW meanwhile had a breakout quarter but I suspect that may have something to do with its out-performing housing market so there's a question over the sustainability of its surge given the mortgage activity surrounding the FHB incentives have concluded.
Overall I guess the lesson is that when you base the GDP of an entire nation on the deliverables of a single industry, you can expect a volatile outcome.