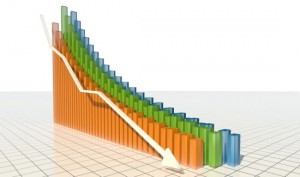 ABS Business Indicators are out this morning and show an economy in the doldrums in the December quarter+
DECEMBER KEY FIGURES
---

Sales of goods and services (Chain volume measures)

Manufacturing

Trend

Seasonally Adjusted

Wholesale trade

Trend

Seasonally Adjusted

Inventories (Chain volume measures)

Trend

Seasonally Adjusted

Company gross operating profits

Trend

Seasonally Adjusted

Wages and salaries

Seasonally Adjusted
So, profits took a beating, salaries climbed and so did inventories. That looks about all square for tomrrow's GDP release, though it's a notoriously difficult measure to forecast. I'm wondering, though, about the inventory build, which is very strong. It's either the result of weaker than expected demand, or an expected bounce in demand perhaps on the November and December rate cuts. Given the nasty profit result, you'd have to put your money on the former. Either way, it doesn't bode well for March QTR GDP.
Anyways, here are a couple of charts on sectoral profit performance. Mining is down, I imagine on the terms of trade correction: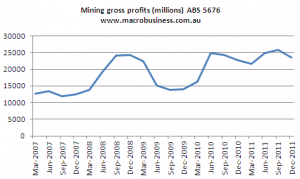 And here are the other major sectors: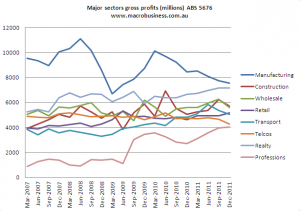 That's pretty patchy all around on the quarter
David Llewellyn-Smith is Chief Strategist at the MB Fund and MB Super. David is the founding publisher and editor of MacroBusiness and was the founding publisher and global economy editor of The Diplomat, the Asia Pacific's leading geo-politics and economics portal.

He is also a former gold trader and economic commentator at The Sydney Morning Herald, The Age, the ABC and Business Spectator. He is the co-author of The Great Crash of 2008 with Ross Garnaut and was the editor of the second Garnaut Climate Change Review.
Latest posts by Houses and Holes (see all)