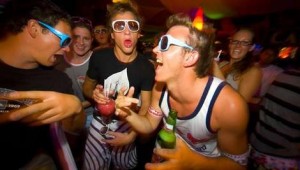 The Australian Bureau of Statistics (ABS) has just released overseas short-term arrivals and departures figures for January, and the macro driver hasn't changed since our Unconventional Economist, Leith van Onselen, reported on the December and annual figures last month (and just happens to be on a Bogan Exodus himself which is why I'm writing this):
Arrivals:

Short-term visitor arrivals (496,800 movements) recorded a decrease of 0.6% compared with December 2011 (499,700 movements). This followed monthly decreases of 0.6% in November 2011 and 0.3% in December 2011.

Departures:

Short-term resident departures (667,100 movements) increased 2.1% compared with December 2011 (653,600 movements). This followed a monthly decrease of 0.8% in November 2011 and an increase of 1.0% in December 2011.
So it seems the trend is accelerating. The ratio of annual tourism arrivals to departures has plummed a new 25-year low: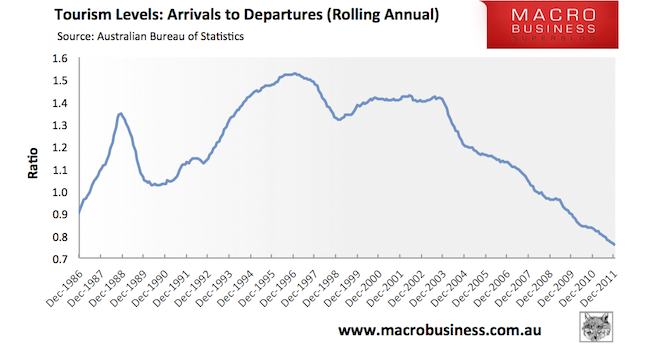 Whilst the numbers don't lie: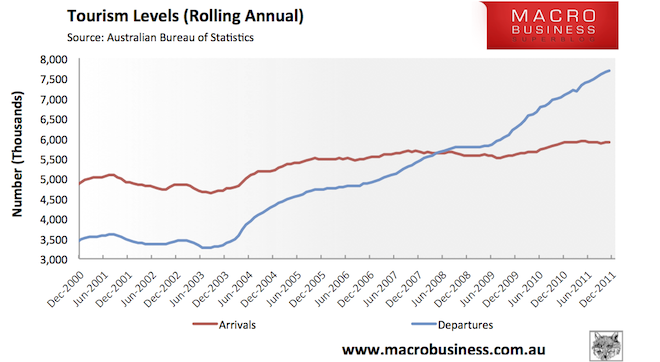 Where are we going?
South East Asia (particularly Indonesia and Thailand) remains Australia's favourite holiday destination, followed by Oceania, the Americas, North East Asia,and North West Europe: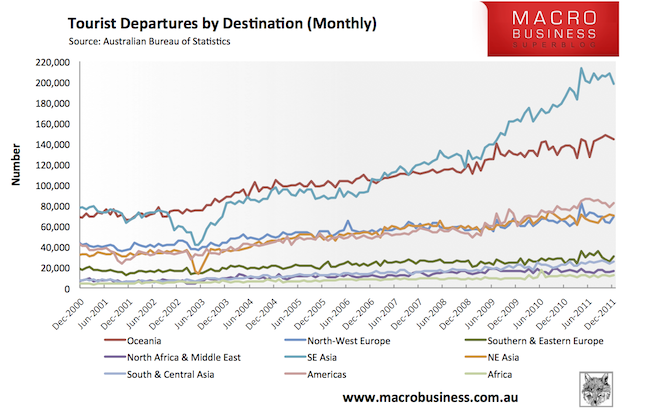 But the coup de grace? The vodka in the Red Bull? The Aussie bogan's penchant for Bali, Fiji and Thailand, is ceaseless, having risen at or over 10% year on year, driving much of the decline in Australian tourism: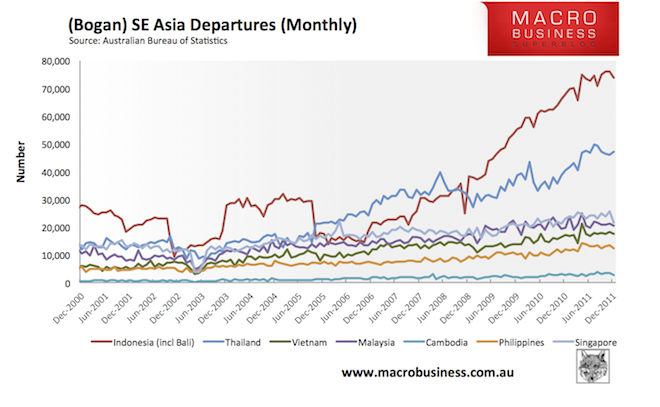 Where are they coming from?
By contrast, the most foreign visitors to Australia came from Oceania (mostly New Zealand) and North East Asia: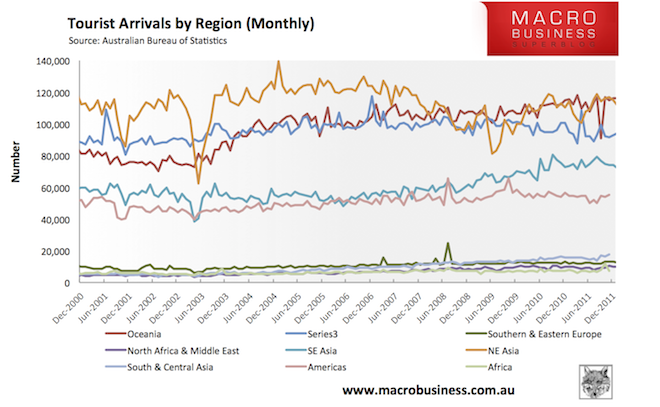 Gotta love that high Aussie Dollar as the market economists keep shouting – unless you happen to be an Australian business. So either adjust, develop better service or a plane that flies London to Sydney in 2 hours. Or buy resorts in Bali. Or get a job in the mines.