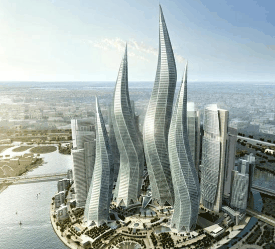 While cruising around the web this morning, I came across a great blog, Brazilian Bubble, which is a bit like a Brazilian version of MacroBusiness.
Upon trawling their recent posts, I stumbled across the Barclay's Capital Skyscraper Index, whose latest report was released last Month.
According to Wikipedia, the Barclay's Capital Skyscraper Index is explained as follows:
The Skyscraper Index is a concept put forward in January 1999 by Andrew Lawrence, research director at Dresdner Kleinwort Wasserstein, which showed that the world's tallest buildings have risen on the eve of economic downturns. Business cycles and skyscraper construction correlate in such a way that investment in skyscrapers peaks when cyclical growth is exhausted and the economy is ready for recession.

The buildings may actually be completed after the onset of the recession or later, when another business cycle pulls the economy up, or even cancelled. Unlike earlier instances of similar reasoning ("height is a barometer of boom"), Lawrence used skyscraper projects as a predictor of economic crisis, not boom.
According to the latest Skyscraper Index report, China is leading the way, with 53% of all skyscrapers currently under construction:
Our Skyscraper Index continues to show an unhealthy correlation between construction of the next world's tallest building and an impending financial crisis…

…often the world's tallest buildings are simply the edifice of a broader skyscraper building boom, reflecting a widespread misallocation of capital and an impending economic correction.

Investors should therefore pay particular attention to China – today's biggest bubble builder with 53% of all the world's skyscrapers under construction…

China will complete 53% of the 124 skyscrapers under construction over the next six years, expanding the number of skyscrapers in Chinese cities by a staggering 87%. China's skyscrapers are not only increasing in number – it now has 75 completed skyscrapers above 240m in height – but the average height of the skyscrapers that it is building is also increasing as past liquidity fuels the construction boom.

In addition, to the increase in size and number of China's skyscrapers, their geographic profile is also changing. Today over 70% of China's skyscrapers are unsurprisingly clustered in the more economically advanced coastal areas of the Pearl River Delta and the Yangtze River Delta. Yet between now and 2017 over 50% of China's skyscrapers will be built inland as China's building boom moves from first-tier cities to second- and third-tier cities. Over 50% of China's skyscrapers are today in tier 1 cities, and based upon current completion plans about 80% of China's new skyscrapers will be built in tier 2 and 3 cities over the next six years – evidence of the expanding building bubble…
Barclay's also singles-out India, which is number two on the Skyscraper Index with 14 skyscrapers under construction:
Yet China is not alone in the growth of its building bubble, India it seems is playing catch-up. Today India has only two of the world's 276 skyscrapers over 240m in height, yet over the next five years it intends to complete 14 new skyscrapers, in what will prove to be its largest skyscraper building boom. Worryingly as well, India is also constructing the second tallest building in the world, the Tower of India, which should complete by 2016.

The writing, so to speak, would seem to be already on the glass curtain walling. For if history proves to be right, this building boom in China and India could simply be a reflection of a misallocation of capital, which may result in an economic correction for two of Asia's largest economies in the next five years.
Interesting stuff indeed.
Index+ +Bubble+Building+100112+(2) 1.14300620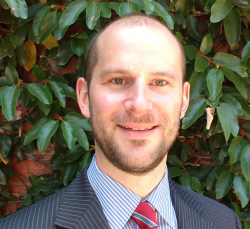 Latest posts by Unconventional Economist
(see all)