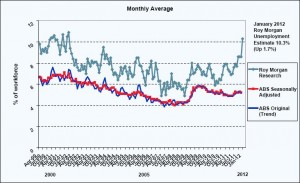 Roy Morgan's unemployment figures for January are out this afternoon and make worrying reading:
Unemployment was 10.3% (up 1.7% since December 2011) — an estimated 1,278,000 Australians were unemployed and looking for work. This is Australia's highest ever number of unemployed as reported by Roy Morgan and is also Australia's highest unemployment rate for a decade — since January 2002 (10.9% — 1,075,000).

A further 7.5% of the workforce* were working part-time looking for more work (underemployed) — 934,000 Australians.

In total a record 17.8% of the workforce, or 2.21 million Australians, were unemployed or underemployed.
The Australian workforce* in January was at a record high 12,429,000, up 383,000 since January 2011 — comprising 7,681,000 full-time workers (up 106,000); 3,470,000 part-time workers (down 53,000) and 1,278,000 looking for work (up 330,000).

The latest Roy Morgan unemployment estimate of 10.3% is now almost double the 5.2% currently quoted by the ABS for December 2011.
As you can see from the above chart, the Roy Morgan figures are unadjusted and more volatile than the ABS data. Nonetheless, the jump in January numbers is startling. Basically the RM figures are signalling a complete unwind of the mining boom era labour market.
You will no doubt also have noticed that the RM figures tend to lead the ABS figures by several months and that the current divergence between the two measures is unusually wide. Even if we can expect some give back in the RM figures next month, it's hard not to conclude that a rather large spike isn't also on the way in the official figures isn't also in the offing.
More to come…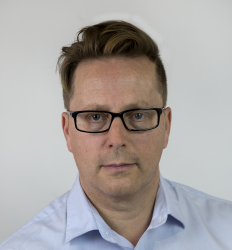 Latest posts by Houses and Holes
(see all)