David Jones CEO Paul Zahra caused a brief stir in retail stocks yesterday when while announcing half year results he noted:
…we did see an improvement in December and January, compared to October and November, which, in turn, were better than August and September.
His own stock spiked, as did competitors, amid hopes that retail is bottoming.
Zahra also noted that consumer conservatism was being driven by "uncertainty in the macro-economic environment". True enough, though that could mean any number of things.
As I have noted before, there is, in fact, hope that retail is seeing its nadir and could rouse itself from the canvas in the next few months. The rate cuts of November and December will have freed up extra disposable income. In fact, I see no other real purpose to them, given the RBA's reluctance to see borrowing expand.
So the first question we need to ask is how much extra is there and on that front the macroeconomic story is not all bad. The recent Labour Price Index and yesterday's Average Weekly Earnings release showed that wages growth remains strong at 3.7%, though the December quarter showed some slowing from the cracking pace of earlier in the year. However, the most revealing chart was the following inflation adjusted wage growth: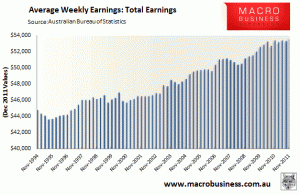 That's a pretty nasty stall when you consider that asset prices are also falling, contrary to the flattening seen from 1997 to 2002, and goes some way to explaining why 2011 was the worst year anyone can remember for retail. The wages release yesterday also made it clear that we have two speed salaries so we can ask will there be a difference in spending across states? For insight into that, let's turn to Westpac's February Red Book which publishes a measure of state-by-state sentiment: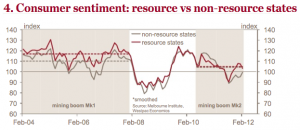 Westpac described the convergence of resource and non-resource states as surprising. But is it really? Rate cuts are the manna from heaven for the eastern deficit states. Perhaps the fall in resource states is more surprising but the terms of trade boom is past its peak and the drum beat of job losses, although largely confined to eastern states, has been broadcast nationally. Moreover, the house price correction is much more advanced in QLD and WA. However, if we look at actual retail sales, it's probably likely that QLD is dragging down the WA result in the Westpac survey: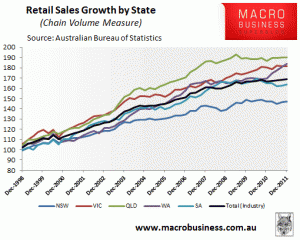 Still, the two recent rate cuts will have freed up more disposable income everywhere and we can also ask where is that money likely to go? The Red Book also publishes a composite indicator for retail spending called the CSI: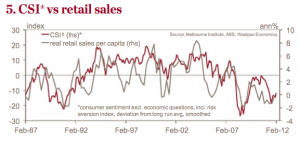 That's a nice representation for where I'd say we are at. A little bounce in both sentiment and spending but still very depressed. I reckon if we could break out WA we might find everywhere else flat. As I noted yesterday, Westpac also asks consumers where is the wisest place to put savings and the following was the result: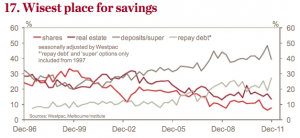 Again I'm struck by the record high in the "repay debt" measure, which suggests that extra disposable income may be shoved straight back onto the mortgage. It's a shame Westpac doesn't ask the question "what would you do with extra disposable income?".
In sum, Paul Zahra's optimism is not entirely unfounded. But there's not much evidence for an imminent renaissance. His best strategy might be to relocate all stores to Perth.
David Llewellyn-Smith is Chief Strategist at the MB Fund and MB Super. David is the founding publisher and editor of MacroBusiness and was the fouding publisher and global economy editor of The Diplomat, the Asia Pacific's leading geo-politics and economics portal.

He is also a former gold trader and economic commentator at The Sydney Morning Herald, The Age, the ABC and Business Spectator. He is the co-author of The Great Crash of 2008 with Ross Garnaut and was the editor of the second Garnaut Climate Change Review.
Latest posts by Houses and Holes (see all)