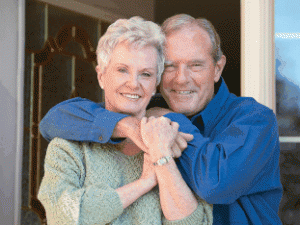 By Leith van Onselen
Last week, the Real Estate Institute of Western Australia (REIWA) made the following plea to Perth's baby boomers:
THE head of the Real Estate Institute of WA has warned "scared" baby-boomers being lured to the safety of cash against selling their investment properties, particularly in Perth's western suburbs.

REIWA president David Airey, speaking at the Australian Property Institute and Financial Services Institute's annual residential property breakfast this morning, said well-heeled baby boomers were offloading their investment property portfolios and converting them into cash despite some of the strongest rental returns in years.
"The trend we see in real estate, and I'm in the western suburbs where there are a lot of investment properties, is that there is an increasing amount of stock," he said.

"Properties are coming off the rent rolls and owners are selling. I think that will continue for a while."
Regular readers will remember my repeated warnings that the potential mass sell-off of investment properties by baby boomers is a key risk facing the Australian housing market. After all, the most recent tax office statistics showed that there are around 1.7 million property investors, two-thirds (1.1 million) of whom are negatively geared – effectively paying their investment properties a dividend in the hope that it repays them with some capital growth.
To add insult to injury, recent ABS data showed that over one-half of Australia's investment properties are owned by Australia's 5.5 million baby boomers – a cohort that represents only around one-quarter of Australia's population. However, with the baby boomers set to gradually enter retirement, whereby they will lose the ability to negatively gear (since they will no longer earn salary income to offset rental losses against), and with the boomers requiring steady cash flow to fund their lifestyles in retirement, their willingness to hold investment properties will likely fade into the future.
Unfortunately for the REIWA, Perth's market seems particularly exposed to the widespread sale of investment properties. According to the tax office, Perth has an above average share of property investors (15% of taxpayers versus 14% nationally), as well as above average rental losses (-$6,200 per annum versus -$3,900 nationally).
As for the claim by the REIWA that Perth is experiencing "some of the strongest rental returns in years", I disagree. The below chart shows Perth's median house and unit rents in both nominal and real (inflation-adjusted) terms: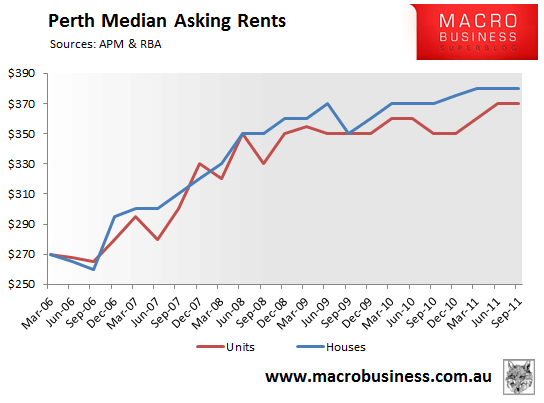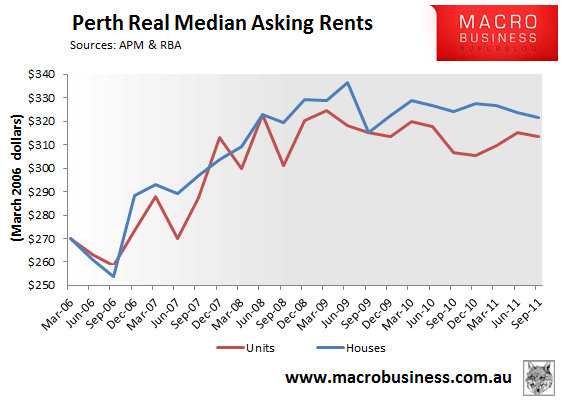 According to Australian Property Monitors (APM), Perth's median asking rents have flatlined since mid-2009, after strong growth between 2006 and 2009.
Perhaps Mr Airey was referring to Perth's gross rental yields, which have certainly improved recently on the back of falling prices. Even so, Perth's gross rental yields remain well below the discount variable mortgage rate: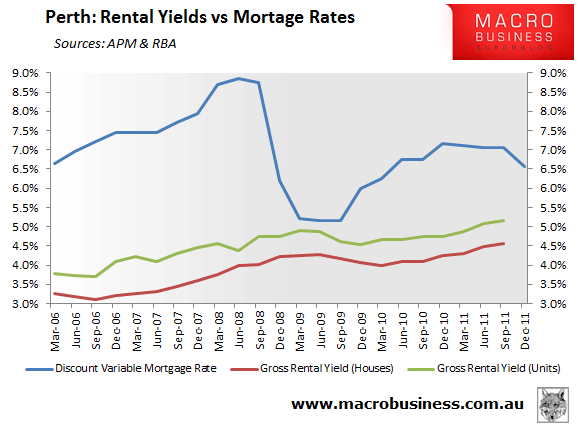 Perth's gross rental yields are now more or less on par with one-year term deposit rates (see below chart). However, once agent's management fees, land taxes, rates, insurance, maintenance, and other associated landlord costs are deducted from rental income, net rental yields are likely to be well below the yields offered on term deposits.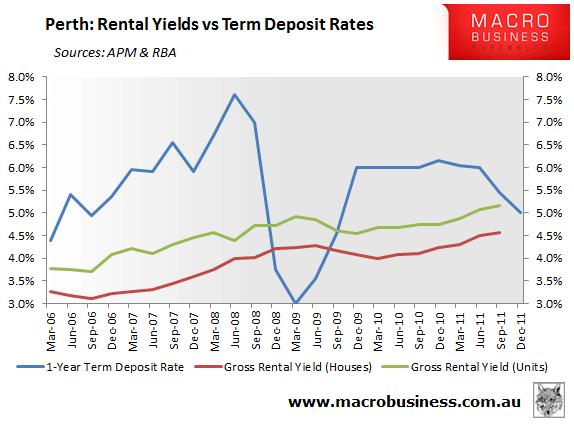 With the baby boomer's gradually shifting into retirement, and expectations of capital growth muted, is there any wonder why Perth's baby boomers are selling up?
Expect to see more of this type of behaviour in the future.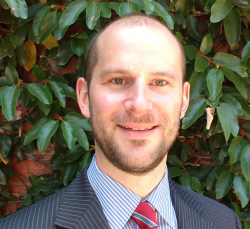 Latest posts by Unconventional Economist
(see all)