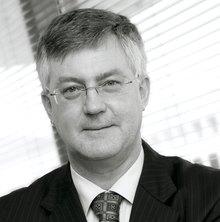 Regular readers will know that the Treasury Secretary Martin Parkinson and I disagree on many things. And that tradition continues today with a speech last night given at the opening of ANU's new Centre for Economic History.
The nub of my disagreement with Dr Parkinson is captured here:
Indeed, I cannot count the number of times during my IMF and Treasury career when officials of foreign governments assured me that their country was 'different' to all others so that the fundamental forces of economics did not apply. As Reinhart and Rogoff recently reminded us, they have only been matched by the number of financial market participants (and property developers) asserting "this time it's different" in the face of economic cycles, aided and abetted by a short-term focus in the media that lauds everyone riding an upswing in asset markets as a certifiable genius.

Well you weren't and it wasn't!

As George Santayana famously stated: "Those who cannot remember the past are condemned to repeat it."
My memory of recent history is that it was the Australian Treasury that embraced and promoted the Pitchford thesis. The idea that private debt and current account deficits didn't matter becasue it was the result of decisions by "mature adults"? Dr Parkinson was head of Treasury's Macro Group through much of the period it was in vogue.
Of course the Pitchford thesis met its Waterloo in the GFC. And the lofty heights from which Dr Parkinson now dispenses his wisdom would have crumbled miserably had it not been for a propitious resurrection of the mining boom, even allowing for some nice executed Keynesian counter-cyclical policy in the middle.
Yet my disagreement does not end there. Having used Australia's good fortune to defend Treasury he makes it clear that Canberra is determined to make the same blunder:
We need to produce graduates who can draw on the economic challenges of the past and relate them to the challenges of today.

For example, in today's context, understanding the effects of past terms of trade booms – recognising that when mineral commodity prices rise, and are expected to remain at historically high levels for a long period, welfare will be well served by allowing resources to be drawn into the increasingly-sophisticated mining-and-related sectors, and into non-tradable sectors. Indeed, consideration of the work produced here at the ANU in the 1970s and 1980s by Bob Gregory, Max Corden and Peter Neary is fundamental to gaining this understanding.

We need people who understand that if you replace quotas and tariffs with other interventions, no matter whether to create "national champions" or to support so-called strategic industries, you are placing producer interests ahead of those of consumers, and it is still akin to protection.
So then, I guess this time it's different. Except, of course, it never is, as 200 years of commodity history shows: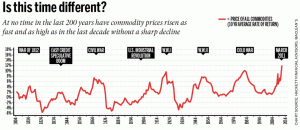 And by extension, as Warwick McKibbin recently said:
ANU professor and former Reserve Bank director Warwick McKibbin said yesterday if the nation assumed the resources boom would continue forever, then it should absorb the pain of effectively abandoning manufacturing and other trade-exposed sectors.

However, Professor McKibbin said there had never been a permanent boom in the terms of trade. This meant the nation should invest the proceeds of the boom to ensure the non-mining parts of the economy had a future. "China won't disappear and will still be a market for our minerals, but there will be a big supply response — others can produce what we produce," he warned.
Moreover, I'm not sure that the pioneers of Dutch disease diagnosis would be all that impressed at being yoked to Treasury's current embrace of that very disorder .
Now, Dr Parkinson may just be doing his job defending policy in public. But that's not really an excuse. Even if, in the end, he concludes with this more useful observation:
And if intervention isn't focused, defined and term limited any chance of "creating" comparative advantage will disappear, and it is the poor who typically pay the ultimate bill.

The study of economic history isn't required to learn these lessons but it can help!
Indeed it can.
Update
For anyone who noticed, I have rewritten this post. The substance is identical but on reflection I thought the tone overly curmudgeonly.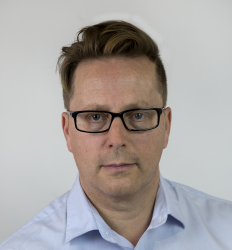 Latest posts by David Llewellyn-Smith
(see all)