Some weeks ago I pointed that there was a growing gap between the government's rhetoric on the economy – that we're exceptional owing to the mining "boom" – and the reality of the economy for the vast majority of the population. I made the point that the government's economic narrative had hit a wall given the growing list of job cuts. It's since had a shot in the arm with breakout January jobs numbers from the ABS, but in a rhetorical sense the mining boom remains dead as a political narrative. It's just not done to trumpet "booms" when punters are getting the boot.
But the economic narrative that has emerged since then is not going to serve the government well, either. For weeks the Treasurer has been telling the press that Australians are depressed about the economy and his number one henchman, Secretary of the Treasury Martin Parkinson, repeated the assertion that Australians "tend to think we live in Greece" last week. The same rhetoric is emanating from the Treasurer today:
Treasurer Wayne Swan says Australians should remain optimistic about the nation's economic outlook despite recent reports of job cuts at several major companies.

Official data on Thursday showed 46,300 jobs, of which most were part-time, were created in January with the unemployment rate dropping to a six-month low of 5.1 per cent.

"It's a fantastic achievement for our nation, particularly given the current state of the global economy," Mr Swan said in his weekly economic note.

He said unfortunately reports of staff cuts at several large companies overshadowed the impressive data.

ANZ Bank has said it would cut 1000 staff and airline Qantas reported it would lay off 500 workers, with as many as 2000 to come.

"Of course we shouldn't view the world through rose-coloured glasses, but we need to recognise the economy's strong foundations if we are to make the most of our nation's opportunities," Mr Swan said.
I'm still wondering what this economic narrative aims to achieve. For the past few months we've seen a very similar line from Labour government sympathetic economic commentators at Fairfax. Ross Gittins has run his steady campaign for national ignorance on the basis that we might talk ourselves into recession. Michael Pascoe writes regularly, and did again on the weekend, that Australia is bullet proof, which seems to be his notion of contrarianism.
Certainly in the case of Gittins, if we look at his other work, he seems to believe that an economy is a reflection of the mood of its people – the old behavioural economist's mantra of keeping "animal spirits" buoyant. This has been true in some degree for the past three decades when consumer borrowing was at the centre of economic growth. But it met its end in the GFC, as the shifting of surplus savings from one country to another with a savings deficit, was shown to be largely unsustainable because the banks that did the shifting can't ultimately be trusted. Gittins is yet to enter this new reality.
Alan Kohler too added his voice to this debate, arguing that debt was depressing everybody.
Does the Treasurer hold a similar view? It's hard to say. By doing so little to reform the tax and macroeconomic settings that produced yesterday's borrow and spend economy, he seems implicitly to be saying that a return to it is possible. In that event what he's really saying when he castigates Australians for being less than cheery is "go out and borrow".
But of course he can't be saying that. That would be very irresponsible indeed. No lesser authority than the Reserve Bank has spent the better part of two years telling us to do the exact opposite, even if along the way it has also marvelled at the outcome of its own power (in tandem with the attitude adjustment of the GFC), captured in the phrase the "cautious consumer". It didn't see the need to cut interest rates in February so it clearly sees no lack of confidence.
Let's not forget either that the government has been cutting spending as it aimed for its surplus. In yesterday's economy this would have necessitated private borrowing if we were to grow in a convulsion of Ricardain equivalence, but that was a passing fad only.
And that brings us to the truth that no polly dare utter. We aren't depressed at all. We are in fact the opposite. Recovering from a bout of drunken exuberance that was a brief if highly distorting episode in the behaviour of Australian households: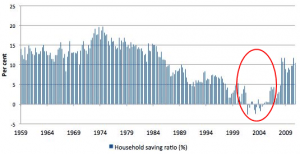 For one marvellous historic moment everybody forgot that saving and investment, not spending, is the engine room of capitalist growth. Only through investing savings in productive enterprise do you sustainably increase capital formation. Of course this can be accelerated by taking on debt but without the base of savings, investment and production you have nothing.
So, where does this leave the governments' and its supporters economic narrative? For starters, completely out of step with the attitudes of the Australian people who have made a structural adjustment to higher savings rates. Second, let's give the government the benefit of the doubt and say it's just trying to ease Australians through to their new growth paradgim, which is many lost jobs in the consumption based sectors, and more in productive investment areas involving hard hats. If so, why not say so? What is wrong with "structural adjustment ain't easy"? That's still a constructive narrative. And it isn't "talking down the economy".
Australian households have grown up. Time to treat them like adults.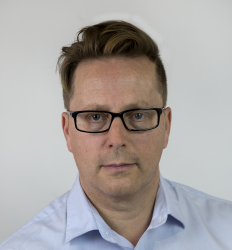 Latest posts by David Llewellyn-Smith
(see all)