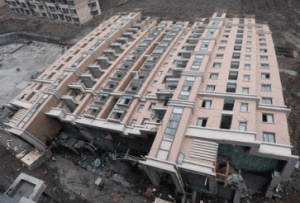 Gavin Putland at the Land Values Research Group (LVRG) on Tuesday posted some interesting analysis on the China housing market gleaned from a chapter of the Reserve Banks of Australia's (RBA) most recent Statement of Monetary Policy (chapter extract below).
According to Putland, China looks to be in the throes of a property crash, based on the fact that land sales, floor space sold, and home prices are all falling:
A typical recession, as I have noted many times [here and here], is precipitated by a bursting property bubble: property sales fall first, followed by property prices, then GDP.

My attention was therefore arrested by two graphs that appeared in Box A ("China's Residential Property Market") in the RBA's latest Statement on Monetary Policy. The first (in the order in which I reproduce them) shows that land sales peaked around Christmas 2010.

The second (in the right-hand frame) shows that the peak in home prices came one or two quarters later than the peak in land sales.

The story concerning sales of floor space (in the left-hand frame) is more complex, perhaps due to changes in government policy: stimulus from late 2008 to early 2010, followed by various anti-speculative measures. But the subsequent peak in sales in late 2010 still preceded the peak in prices in 2011.

Rapid growth in prices through 2007 and 2008 caused rental yields to fall below 3%. Such low yields made price declines inevitable. Official loan/valuation ratios, which look conservative, must be regarded with suspicion on account of the "shadow banking" system. Price declines will hurt more than official figures suggest.

So it is sufficiently clear that we are witnessing the second stage of a housing crash. How this affects the productive side of the economy depends on a great unknown: how does a command economy deal with bank failures?
At only three pages in length, the RBA paper is well worth a read for anyone seeking a quick primer on the Chinese housing market. Some other useful pieces of information gleaned from the paper are as follows (direct quotes):
Attitudes towards buying property have changed considerably; the Urban Depositor Survey by the People's Bank of China reported that between the December quarters of 2010 and 2011, the share of respondents expressing a preference to invest in real estate had fallen significantly, and the share of respondents expecting to purchase an apartment within three months of the survey dropped to levels not seen since 2008.
Confidence of developers has also been affected by lower sales revenue and expectations of lower property prices; the Business Climate Index for real estate has decreased towards global financial crisis levels, reflecting the tighter financial conditions many property developers have been experiencing (Graph A2).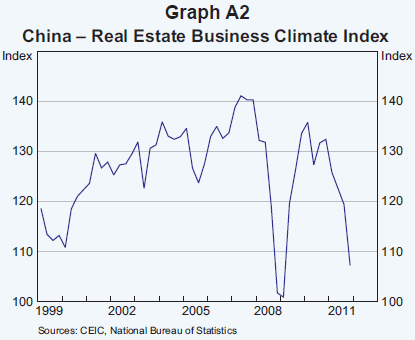 Many developers have been scaling down their construction plans and reducing their purchases of land (Graph A3 – above).
As developers revise their construction plans for the coming year, slowing residential construction activity will have direct and indirect effects on GDP growth. Dwelling investment has become an important source of demand in China, with its share of GDP having increased from about 5½ per cent in 2004 to approximately 9 per cent in 2011.
The slowing in housing investment is also likely to have an indirect effect on growth as local governments rein in spending in response to weaker revenues – roughly 20 per cent of taxes collected by local governments are related to land, and land sales generate an amount equivalent to around 35 per cent of local governments' current expenditure.
The main risks from the property market emanate from loans to property developers and, to a lesser extent, loans to local government financing vehicles. Loans to property developers are roughly 7 per cent of total loans outstanding. Financial institutions also have exposure to property developers through bond and equity holdings. [And] slowing land-related revenues could also create financial strains for local
governments…