Do you get the sense right now that the Australian economy is a little rudderless? If you do, I don't blame you. This morning's media coverage of yesterday's jobs result is chock full of "surprises", "shocks" and "unexpecteds". I'm not sure why that's the case. It's no surprise at all. MB has been forecasting this outcome for over six months. And the marginal employment data itself has been howling it since September.
Some of the disconnect is no doubt the result of media headline seeking. But there is also a deep disconnect between the rhetoric of our economic leadership and the reality of both the economy and its context.
Here's what Bill Shorten had to say yesterday about the jobs result. From the AFR:
Acting Treasurer Bill Shorten said 2012 would be an "extremely challenging" year.

"But it's important . . . that we don't become unduly pessimistic," he said. "In some sectors which traditionally have been large employers, like retail and manufacturing, there is pressure on job numbers.

"[But] we do see growth in the mining sector and the health sector. It is certainly a two-speed economy."
So, it's Dutch disease then? A two speed economy because the dollar is so high, which is squeezing manufacturing. Well, yes, but that does not account for the retail job losses. And let's not forget that this is what we wanted right? Canberra's Mandarins wanted to "free up" room for the mining boom.
The Leader of the Opposition, Tony Abbott, was just as perverse, saying:
…the jobs result was "very disappointing and it demonstrates how important it is [to] get debt and deficit under control".

"We will be in a much worse position to deal with any renewed global financial crisis than we were in 2008, because in 2008 we had a massive surplus. Today we have a massive ­deficit," he said."
So, cutting public spending will save us from a weak jobs result? It didn't help Greece (notwithstanding a few little differences).
There is not one story, not one piece of analysis, not one comment, that I can find that is attached to the reality of the Australian economy right now. That reality is threefold.
First, we do have a very narrow boom going in mining. Sure it's big but it's a sectoral boom, not a national one.
Second, we are not exceptional to the effects of the new global era of debt-conservatism. Australian households are still up to their eyeballs in debt. They know it. Global markets know it.
Third, and following on, we are caught in a big economic adjustment that has hardly been mentioned, the deflating the millennium credit bubble based around housing and consumption. The size of this bubble was enormous and the new mining boom simply cannot support it.
In short, as one narrow boom inflates and one much broader bubble deflates, we are seeing the economy seeking a new equilibrium that is leaner and less labour-intensive, less spending driven and more more savings and investment oriented.
I can think of two possible reasons why Canberra does not want to talk about this reality, one for the executive and another for the legislature.
The executive is perhaps too scared to discuss it for fear that the bubble will burst suddenly. The RBA gets it, I think, even if last year's charged interest rate rhetoric suggests it's not universally accepted. Maybe it's too difficult to acknowledge given some of the same people in power today allowed the bubble to form in the first place.
For the Government and Opposition, however,  it's more obvious. Aim for a fiscal surplus for political reasons, hoping to drive the RBA to cut interest rates and stimulate house price growth – replicating the Howard/Costello model. It's ironic if that's the case, given they have no choice but to aim for surplus anyway, thanks to the ratings agencies and the Budget's support of the banks.
Moreover, the politics of rate cuts, whether in the national interest or not, is still gold in the polls. I note the Government continues to trend higher since rate cuts became a real possibility and more so since becoming a realty. Who needs coherence when life's getting cheaper: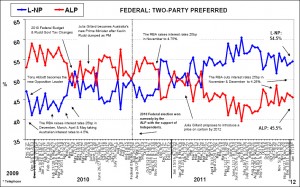 It will be interesting to see if monetary and fiscal authorities can maintain a consistent narrative on the economy this year. Rate cuts to boost spending are fine. Rate cuts to boost borrow and speculate are not. It's only 22 months since Glenn Stevens told us so on Sunrise and household debt to disposable income has only fallen marginally from 155% to 151% since then. I'm not sure the Government would agree.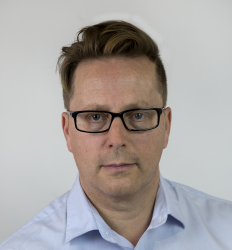 Latest posts by Houses and Holes
(see all)