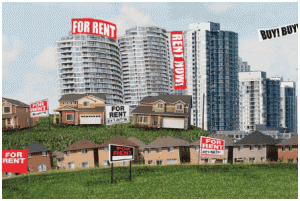 A few weeks back I reported how Melbourne rental vacancy rates, as recorded by SQM Research, have ballooned to 4.4% – a six year high: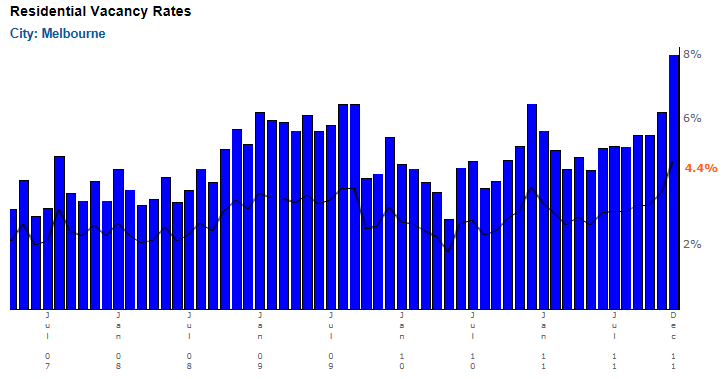 Yesterday, the Sunday Age published an interesting article, Rental squeeze begins to ease, which adds some colour on the rental apartment glut that is developing in Melbourne.
MELBOURNE'S rental market has turned in favour of tenants with vacancy rates – particularly for high-end apartments – hitting a six-year high.

Apartments in St Kilda Road and Docklands have been most affected thanks to a construction boom that has flooded the area with new units whose owners are struggling to attract renters.

The glut should lead to cheaper rents and more choice as thousands more units are added over the next few years.

Last month, 550 apartments – more than one in five – were vacant in the prestigious St Kilda Road precinct.
Below is the SQM Research chart for the St Kilda Road precinct: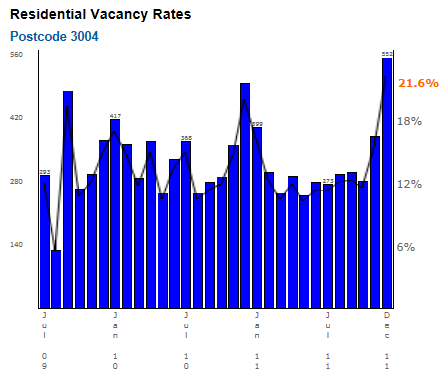 The vacancy rate in Docklands has nearly doubled in the past year, with more than one in 10 rental units now empty, according to SQM Research.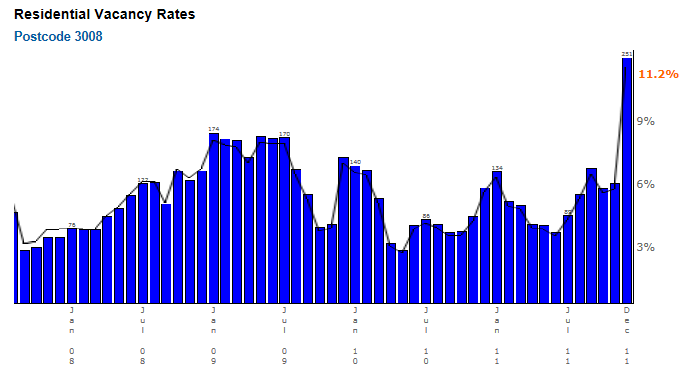 Although much lower than St Kilda Road and Docklands, Southbank's vacancy rate of 6.1% is also well above the Melbourne average
according to SQM
: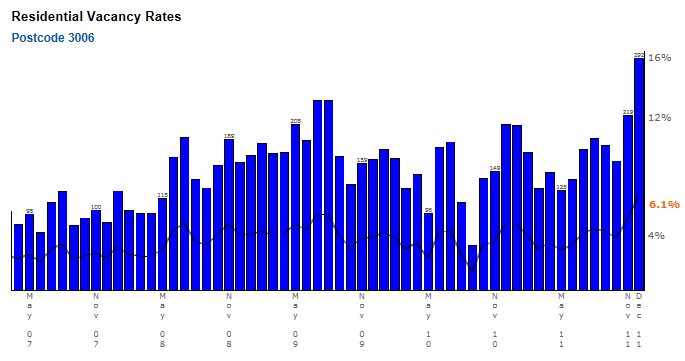 Back to the Sunday Age article.
"Supply has run way ahead of demand. Melbourne is experiencing what regularly happens on Queensland's Gold and Sunshine Coasts," SQM managing director Louis Christopher said.

With a vacancy rate of 3 per cent representing a "balanced" market for tenants and landlords, the figures show conditions are shifting in favour of tenants after years of the inner city reportedly being in the grip of a rental crisis.

The blowout is driven by a surge in the construction of off-the-plan apartments, re-creating many of the conditions that prompted the 2003-04 market slump.

But tenants don't have the run of the market, with rents yet to be affected by the swelling supply…
Indeed, according to Victorian Government data, real Melbourne rents have so far held up, growing by 3% since March 2009 after a strong run in 2007 and 2008: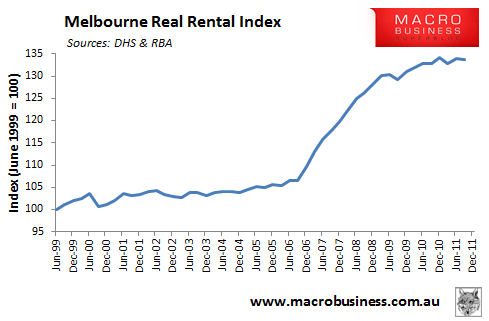 But Melbourne's housing supply is set to continue increasing at an uncharacteristically high rate from here, owing to the large amount of dwellings construction in the pipeline.  To put it mildly, Melbourne's rents will be very lucky to track inflation over the next few years.
Back to the article.
…analysts warn rents will come under increasing pressure as the number of apartments in the central city swells by 40 per cent over the next three years.

"We estimate that 12,000 new apartments are under construction right now or are very likely to be built by 2015," said Robert Papaleo, research director for Charter Keck Cramer. "Forecast population growth won't be enough to keep up with the rate of new supply, especially in the CBD and Southbank."

While owner-occupiers have bought some of the apartments, the vast majority of these off-the-plan projects were targeted at investors, often from overseas.
According to the latest Tax Office data, Melbourne had 290,000 property investors in 2008-09, with above average concentrations in the inner-city areas of Southbank, Docklands, and the St Kilda Rd precinct. Given most of these investors are negatively geared, and Melbourne's gross rental yields – at 3.7% for houses and 4.3% for units – are already the lowest in the nation and unlikely to see strong growth over the foreseeable future, it will interesting to see whether the bulk of Melbourne's investors choose to remain in the market or exit en masse.
Back to the article.
The SQM Research figures also point to a general easing in conditions in the rental market across Melbourne, with properties available rising to 16,000 in December, compared with 13,000 in 2010. The city's vacancy rate is now 4.4 per cent, the highest since 2005…Peter O'Brien, head of property management for Metropole, said it was now taking longer to lease properties and landlords were having to be more conservative in asking for rent increases."'[It's] been a real shock to me because I've done 19 years in real estate and I've never experienced it this quiet in January before," he said."'This time of year in the past rentals used to be able to get $20 to $30 more a week than what the property would be if it was vacant in October, but this year it's pretty much staying the same. We're not getting that extra money because there's not as much demand."
Shocked? You're not reading enough, Peter. MB has been forecasting this for a year. The Age cherry picks a few statistics to give the story some hope but I suspect within another year or so the headline will more likely read "Oversupply hurting Melbourne property prices".