As I explained yesterday the data I am watching this week is the ECB's marginal lending and deposit facility usage to get an idea if the interbank stress in the Euro-Zone is lowering as the new year ends. So far then answer is "no" with the latest usage of the marginal lending facility climbing again to €15bn even though the deposit facility is full of €453bn worth of supposedly "excess" reserves. As I stated yesterday this dynamic suggests reserve hoarding by core banks which is forcing some periphery banks to use the marginal lending facility to re-coup lost reserves after deposit outflows. In "normal times" banks would offer excess reserves to the interbank market because they get a better return, so there would be limited need to use the marginal lending facility. But these are obviously not "normal times".
Marginal lending is an expensive way to get reserves because it is the mechanism used by the ECB to control the top end of the interest rate corridor. This is likely to be adding stress to the already struggling periphery banking system. That stress is starting to flow over into investor confidence which is making it extremely difficult for periphery banks to re-capitalise.
Trading in shares in Italian bank Unicredit has been suspended after they fell 9.9% on Milan's FTSE exchange

The shares dropped after the bank announced the price for a 7.5bn euro ($9.8bn; £6.3bn) rights issue at a 69% discount to Tuesday's closing price.

The bank faces a 7.97bn euro capital shortfall in order to meet new rules set by the European Banking Authority.

In a statement, the bank said it had secured interest for just 24% of shares on offer so far.
We also saw some action in the sovereign issuance last night with both Germany and Portugal up. Germany managed to sell €4.06 bn worth of ten-year bonds at an average yield of 1.93 percent. This was a lower yield than previously, but the coverage on the auction was low which is a concern given Germany's strength. Portugal sold  €1bn worth of 3 mth t-bills at 4.346% which the lowest rate in 8 months, down from 4.873% last month which was a good outcome.
Last night we also had a flurry of of data. You can can find much more detail from the PMI reports here. Some of the important numbers are:
Eurozone PMI Composite – 48.3 – contracting
Eurozone PMI Services 48.8 – contracting
Eurozone CPI Estimate 2.80% – deflating
Germany PMI Services for December 52.4 – expanding
France PMI Services for December 50.3  – barely expanding
Italy PMI Services for December 44.5 – contracting
Spanish PMI services for December – 42.1 – contracting
Italy CPI – EU Harmonized for December 0.3% m/m 3.7% y/y
French Consumer Spending for November -0.1% m/m -2.1% y/y
Overall the data follows what we have been seeing from Europe for some time. Periphery nations weakening, France in the middle, Germany outperforming, but the whole ship slowly sinking.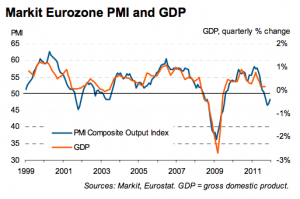 The underperformance of Italy is a big concern as what this country needs is economic growth. Without it, funding Italy's massive government sector debt is going to be a huge problem for Europe. Obviously Spain is also a concern given its latest government debt issues and my expectation is that the country will be back under the heat lamps over the next month.
What is needed for Europe to address the economic crisis is for the under-performing countries to catch up with Germany. Given the latest data is showing an expanding Germany and a contracting periphery that certainly doesn't appear to be happening. That being the case Europe's major economic issues remain.