Usually when I think of the CRB (Commodity Research Bureau) Index I'm looking at it as part of my toolkit for the Australian Dollar outlook. But I was talking to a few mates over in Perth yesterday and thoughts turned to the relationship between the CRB and the S&P ASX 200.
We all have our biases and this relationship isn't one that I would usually think of as a matter of course because even though we have some of the biggest miners in the world I always thing of the Australian market as a very narrow market dominated by Financials which make up almost 39% of the index.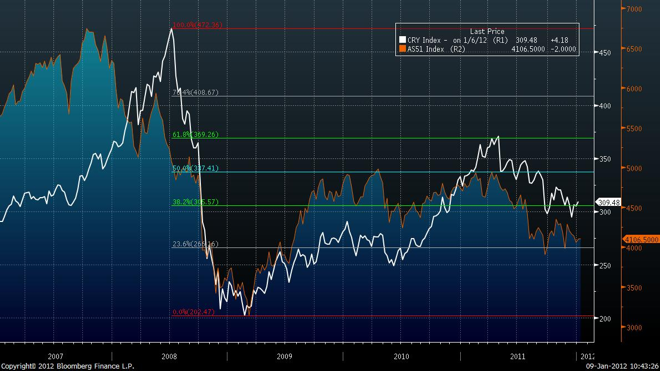 But have a look at this chart above and you can see what is going on I think. It appears clear to me that the equities and commodities have been correlating, at least in a broad directional sense, quite strongly since the market first went into a funk in the second quarter of 2011. Just as they did in the horrendous market turmoil of late 2008 and early 2009.
So it's about the broader market moves – I hate to say it but those over used terms risk on and off may actually have some traction here as you can see in the daily price chart below.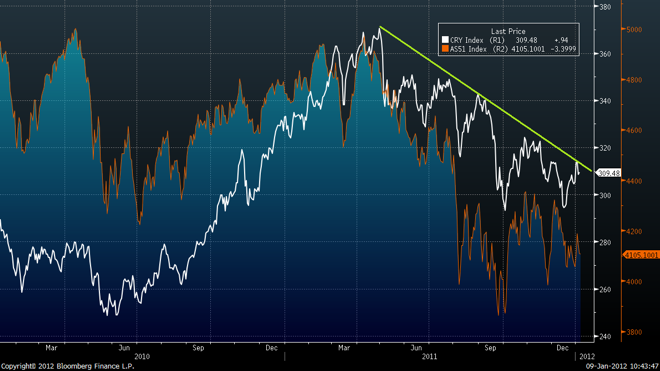 You can also see the big green downtrend line that is currently constraining the CRB from any rally. But there is more to this than just risk on or off.
What is it then?
Global growth is just getting weaker as deleveraging continues in developed countries around the world, even in the backdrop of massive monetary and fiscal stimulus. But equally in both the charts above you can see the DNA of Central Bank quantitative easing. As one of the guys pointed out to me,
You can see the free kick of QE1 (RMBS buying) and QE2 (Govies buying) on the CRB. Where to for 2012?? Not sure but as always – keep an eye on commodities (unless the CB's find a way to print these too..)
I agree, Australian equities are under pressure and remain so because of the broader weak market conditions and the weak global backdrop in terms of economic growth and risk appetite.
But there is also a potential positive in this relationship and while I don't normally think of the CRB as a bellwether for the Australian stock market I will be watching it closely from now on as any move higher will be telling me something about a change in investors thinking and or the outlook for growth. The Australian Dollar will probably be heading higher as well if this breakout occurs.
Charts and the idea come courtesy of Paul Cooper over at Blackswan Equities in Perth – but are not advice to trade or invest – please see disclaimer below.
Please remember these are not recommendations for you to trade these are my views and I have my risk management tools and risk parameters that you do not have access to. Thus, this blog is for information only and does not constitute advice. Neither Greg McKenna nor Lighthouse Securities has taken your personal circumstances, objectives or financial situation into account. Because of this you should, before acting on this information, consider its appropriateness, having regard to your objectives, financial situation or needs.