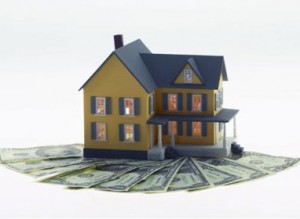 ABS housing Finance is out for October and is ugly:
Seasonally adjusted estimates

---

Value of dwelling commitments(a)(b)

Total dwellings

Owner occupied housing

Investment housing – fixed loans(c)

Number of dwelling commitments(a)(b)

Owner occupied housing

Construction of dwellings

Purchase of new dwellings

Purchase of established dwellings
Here's my first chart. Note especially the light blue line. Ex-refinancing, established housing finance is going nowhere (except down slowly):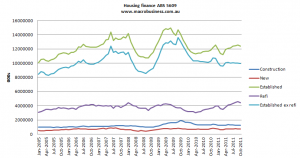 By state, it's a one man show: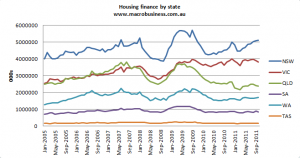 By purpose, there's nothing much going on either: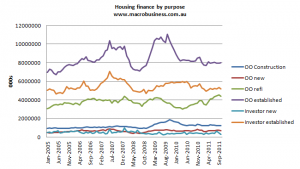 Some small upside can be found in a minor stirring amongst first home buyers with a jump from 16.4% to 17.9% of overall orignations: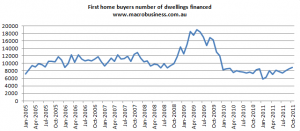 But the average total loan size remains stalled: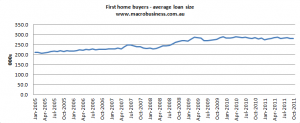 In sum, this is a quite weak report. If not for the AFG data suggesting a big bounce in November following the rate cut, I'd be getting quite concerned. In that vein, the AFG report for October did forecast this weakness so that's some confirmation about the indexes worth. As DE has said several times, we're still waiting for confirmation of the AFG breakout in other indicators. Next month's mortgage finance will be more important than this month.