Predictably, the usual suspects are on the hustings promoting property in the wake of the RBA rate cut today. And why not? It's always worked before. Hasn't it? Well, actually it's not that easy to tell. Here's a chart of ABS YOY house price growth graphed against the RBA cash rate since the eighties: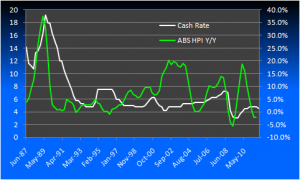 The relationship looks very clear. When rates rise, the rate of growth on house prices falls. When rates fall, house prices rise. But here's another chart for the low interest rate period of the past fifteen years: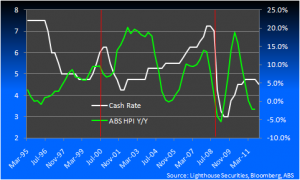 Given this period is known as the Great Moderation (in the US at least) because the amplitudes in the business and economic cycles showed less volatility, it is somewhat incongruous to note that over the same period house price rates of growth have been increasingly volatile. And this is where the complication comes in. Several times over the past decade, Australian housing has sought a lower equilibrium price, in 2000 and in 2008. On both occasions, marked in red, the correction was averted by not just rate cuts, but by rampant fiscal support. In 2000 it was the introduction of the $14,000 first home owner grant. $7000 of that became permanent. In 2008 it was then tripled to $21,000.
This is not something that "housing bulls" like to mention but it has been a crucial ingredient in preventing housing down cycles from progressing. My guess is that we will not see the same intervention again this cycle unless things turn unruly.
So rate cuts will have to carry the load alone for the time being. Will they work? There has been a creeping recovery in credit for cars and mortgages since the nation realised that rates had peaked in July: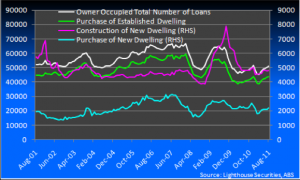 The number of loans has risen but remains weak and the total value of those loans has hardly budged for owner occupiers with a bit more effort from investors: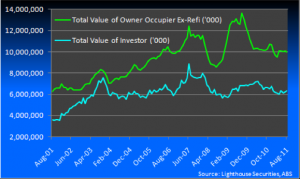 This split in the data surely suggests that the average loan size is actually shrinking. Meanwhile, there is a refinancing boom going on, also suggesting a keenness in the population to pay down debt, not expand it.
Yet another factor working against the efficacy of rates on housing is that contrary to some comments on this site, I do not think that the RBA will want to see a resumption of strong rates of credit growth by Australian households, as it has told us repeatedly over the last eighteen months and again last week. I suspect it would be quite content to see the current rates of growth or near enough to continue. The corollary is that rate cuts will be aimed, as much as possible, at sustaining present conditions, not boosting activity further through an expansion in household credit. So that means any appreciation in house prices will also run up against an unimpressed central bank.
Moreover, for further rate cuts to be delivered, we will have to see a further deterioration in general conditions both here and offshore. But if the globe is dragged towards a greater slowdown in growth by a European debt crisis and recession then debt revulsion will also increase here. If it's a China slowdown the blow to confidence will be all the greater and will also hit mining sector investment. In that event, the RBA will find itself with some rather incompatible goals.
The outcomes for housing are far from certain.