Tomorrow the ABS releases its October Labour Force survey and the chances are growing that we'll see a jump in unemployment.  The August report wasn't bad, with the unemployment rate falling from from 5.2862044% to 5.2477873%. But despite the decent month, the trend for unemployment is firmly up: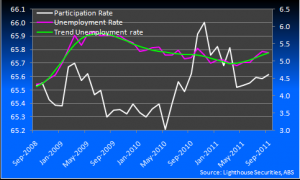 Another measure that appears to have crossed an important turning point is hours worked, which are rising: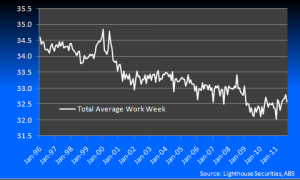 Although this seems good on the surface, the counter intuitive reading is that the reversal in the measure is the result of part time workers losing their jobs. That might be because we are beginning to see an unwind of the "skills crisis". That is, businesses have been hoarding labour for fear of being unable to replace it. But as they realise that no new boom is coming, some of that fear is ebbing away and so are the jobs. The ratio of full time positions to part time has fallen from 2.52 in 2008 to 2.36 in September.
Adding to the unemployment picture, recent data has been at best modest. The ANZ jobs survey for October fell for the sith month out of seven and falls in this measure do track the unemployment rate: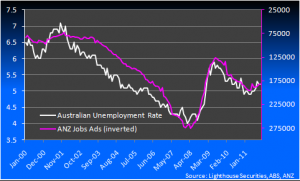 And yesterday, the NAB survey printed some very weak labour data. Although the MSM cherry picked the rising business confidence number, take a look at the red circled numbers:

That is the worst employment index print since July and the second worst since the GFC recovery. Moreover, the collapse in the labour cost index in the past three months to 0.6%, the lowest since December 2009, strongly suggests advancing labour market slack.
Finally, of course, earlier in the week we had the Roy Morgan figures which did show a big jump in October unemployment: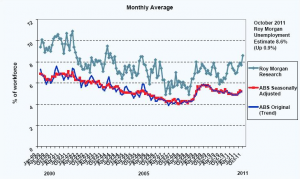 As you can see, it is unusual for the gap between the unadjusted RM data and smoothed official data to be quite this wide. And the RM data actually has a decent track record of leading unemployment spikes.
It may not be this month but the planets are aligned for a jump in unemployment.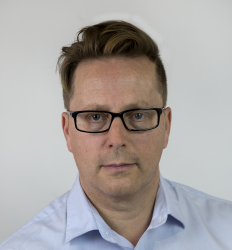 Latest posts by David Llewellyn-Smith
(see all)