The S&P/ASX 200 Index closed down 12 points or 0.3% lower to 4171 points after positive leads from overnight markets. In after hours trading, the index is up 15 points, although Euro and US markets are pointing to slightly lower opens. Volatility continues to rule.
Asian markets experienced broader losses, with Japan's Nikkei 225 down 2.2% at 8640 points, the Hang Seng almost 1% down to 19540. The Shanghai Composite was again the best performer, currently up 14 points or some 0.5% to 2517 points.
In other risk assets, the AUD continues to fall, down nearly 1% to 102.52 cents USD, whilst WTI crude also fell 1 percent, now at $91.54 USD a barrel.
Gold was steady during the Asian session and is currently at $1733 USD an ounce or $1689 AUD an ounce.
Movers and Shakers
A generally red board on the ASX today, with all sectors except consumer discretionary and staples down.
The banks all still getting slogged, even though they are reporting record profits, with ANZ losing 2%, Commonwealth (CBA) 0.4%, National Australia Bank (NAB) also down 1% and Westpac (WBC) the "best" only down 0.05%
Macquarie (MQG) also took a hit, down 1.6%, whilst healthcare stalwart Cochlear (COH) continues to fall, now below $54 a share. Its "twin" CSL gained 0.5% whilst Telstra (TLS) slid slightly.
BHP Billiton (BHP) recovered to be steady for the day, whilst Rio Tinto (RIO) actually gained a few cents, gold miner Newcrest Mining (NCM) had a good day too, rising 0.4%
Fortescue (FMG) finished the day down nearly 3% (almost quiet for them) and Woodside Petroleum (WPL) also took back yesterday's gains losing just under half a percent.
Is Woolworths (WOW) bottoming? The retail giant gained over 2% today to finish just below $24 a share. Maybe the market is reacting to the retail sales figures or just bargain basement buying? At today's price, WOW is yielding a grossed up 7.53% fully franked dividend.
The Charts
The previous short term trend from the late September bottom of 3850 points, is no longer intact but is now tracking sideways from here, staying under resistance at 4300 points, but congesting above support at 4150 points.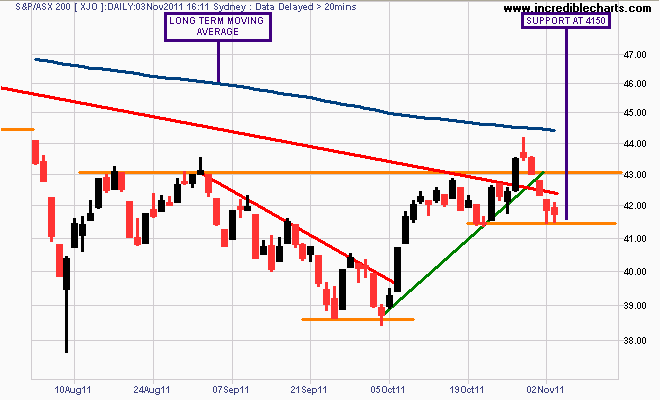 The short term bullish case is reinforced by the bounce off support and the deceleration in the falling prices since the false breakout above the medium term downtrend line (marked in red).
In the medium term, the market still needs to clear above resistance at 4300 points and then the long term average at ca. 4350-4400 for a sustained rally.
Watch my "Chart of the Day" posts for continued analysis of US, Euro and Asian markets which will lead the way.
Latest posts by Chris Becker
(see all)