The S&P/ASX 200 Index closed down 48 points or 1.15% lower to 4184 points after the continuing turmoil in Europe. In after hours trading, the index is steady, with Euro and US markets pointing to positive gains from the heroic losses of last night.
Asian markets experienced similar if mixed losses, with Japan's Nikkei 225 down 2% at 8658 points, the Hang Seng "only" losing 0.6% to 19238. The Shanghai Composite was again the best performer, currently up 1 point to 270 points.
In other risk assets, the AUD is currently at 103.5 cents USD, whilst WTI crude slipped half a percent, now at $91.74 USD a barrel.
Gold gained almost 1% during the Asian session and is currently at $1726 USD an ounce or $1666 AUD an ounce.
Movers and Shakers
A generally red board on the ASX today, with all sectors except utilities down, IT and financials taking the brunt.
The banks all finished in negative territory again, with ANZ losing 2%, Commonwealth (CBA) 1%, National Australia Bank (NAB) only 0.7% and Westpac (WBC) after announcing results, down 1.9%.
Macquarie (MQG) also lost nearly 3%, whilst healthcare stalwart Cochlear (COH) was slogged almost 5% as its rebound from sub-$50 low seemed to have ended for now. Its "twin" CSL lost 0.6% whilst Telstra (TLS) lost 1%
BHP Billiton (BHP) recovered to only lose 0.6%, whilst Rio Tinto (RIO) lost just over 1, gold miner Newcrest Mining (NCM) had a good day rising 1.4% with the gold price.
Fortescue (FMG) finished the day up 1.6% and Woodside Petroleum (WPL) also gained just over half a percent.
Woolworths (WOW) lost over 1% after announcing a strategic review of its retailing business, including the possibility of selling its Dick Smiths Electronics business.
The Charts
Overnight volatility (the German DAX down 5%, Italian MIB down nearly 7%, French CAC down 5%, all US indexes down almost 3% – this is not normal!!!!!) is weighing on the local bourse.
As I said yesterday, the current short term trend is no longer intact but could track sideways from here, staying under resistance at 4300 points, but congesting above support at 4100 points.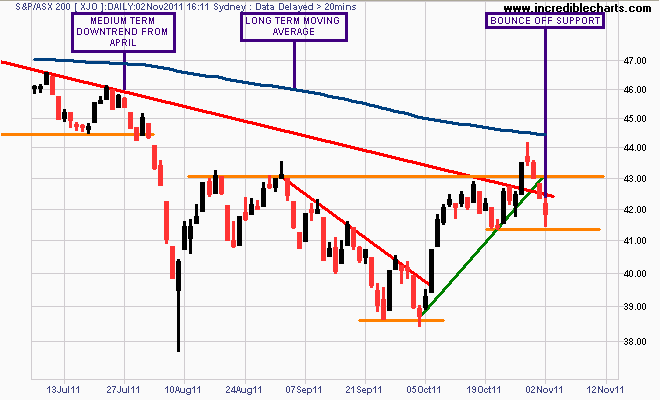 The bullish cash is supported (literally) by the long wick on today's candlestick, showing strong intraday buying after the initial open (although this was sold off into the close) bounced off support at 4100 points.
So far, the market is tracking a typical reaction following a significant correction. A failure to break through the 4300 resistance level and on through the long term moving average area will likely mean another turndown for the market, in a repeat of countless other bear markets. The best analog in recent history is the March 2002 to May 2003 downturn: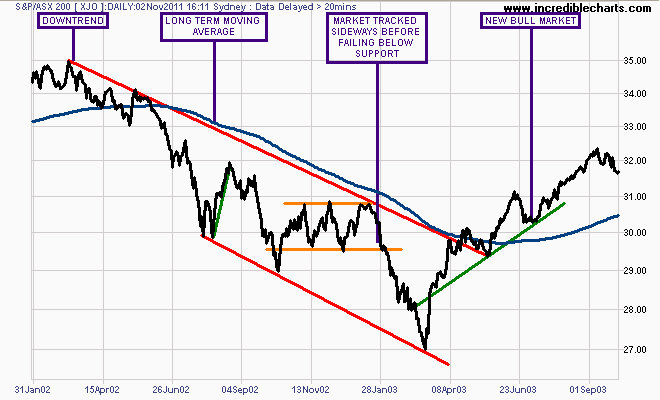 Watch my "Chart of the Day" posts for continued analysis of US, Euro and Asian markets which will lead the way.