The RBA's November Statement on Monetary Policy was released this morning and shows the bank in retreat from both its inflation concerns and growth forecasts. Growth for 2011 has been cut 0.25% to 1.75%. Growth for 2012 growth has been cut 0.5% to 4%. CPI inflation has been cut from 3.6% to 3.25% for 2011 and underlying inflation from 3.25% to 2.5% for 2012. In fact, underlying inflation is not seen rising towards 3% until late 2013. Here is the new table: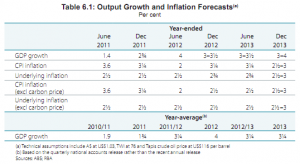 It is interesting to note that as late as May, the RBA was forecasting 3.25% for this year so it's missed by almost half. In May it was forecasting 4.5% growth for 2012 but even its revised 4% target looks more than ambitious to me. Even if we disregard any international weakness, the lesson of 2011 is surely that the adjustment of the Australian private sector to lower rates of credit ensures sub trend growth even in the presence of a mining boom. I guess it's just not done to mention such things.
Instead we have a rather optimistic base case for the global economy:
The IMF's September forecasts were for global growth to be around trend in 2011 and 2012, with annual growth of around 4 per cent in each year. These forecasts are weaker than three months earlier, with the downward revisions largely reflecting a softer outlook for the euro area and the United States, where concerns about the sustainability of sovereign debt positions have increased uncertainty and lowered confidence. The Bank's central scenario is a little weaker than the IMF's forecasts, mostly reflecting a more pessimistic view on Europe. Growth in emerging economies is, however, expected to remain firm, contributing around three-quarters of total global growth, although it has also been revised down modestly given trade and financial market linkages to the advanced economies.
But this optimism is offset by the document's heavy weighting towards risk. First the RBA acknowledges the terms of trade have peaked, for good:
For some time, the Bank has been expecting that the terms of trade would gradually decline as global production of resources, including coal and iron ore, increases (Graph  6.2). The recent falls in commodity prices and the slowing in global demand suggest that the peak in the terms of trade has now been reached and indeed the recent significant falls in the price of iron ore suggest that the decline could be happening a little faster than earlier expected. However, assuming continuing solid growth in China, commodity markets are likely to remain quite tight and the terms of trade are forecast to remain at very high levels compared with recent decades.
Then it's on to the domestic economy where Dutch disease and disleveraging are expected to continue:
Growth over the next few years is expected to be driven by mining-related activity, with belowtrend growth in the non-mining economy. With the announcement of final investment approval for the Wheatstone LNG project, a pipeline of close to $150 billion in LNG projects is now approved or under construction. Significant expansions to iron ore and coal production capacity are also underway, and will contribute to solid growth in resource export volumes over the next few years.

The near-term outlook for the overall non-mining economy remains subdued, with conditions likely to continue to diverge across industries. Business surveys and liaison suggest that investment intentions for the next year have softened over 2011, reflecting the high level of the exchange rate, the unwinding of the earlier fiscal stimulus and the greater uncertainty about the outlook for global growth. Further out, a gradual recovery is expected in non-mining investment, although the recovery is forecast to be more muted than following previous downturns.

The household saving ratio is expected to remain at around current levels over the forecast period. In the near term, household spending is likely to be affected by the decline in net wealth from falls in equity and housing prices, the fall in sentiment and increased concerns about the risk of unemployment. Over the next few years, however, household spending is expected to grow broadly in line with income growth.
Goodness me, that last paragraph is a shock to the system. One wonders how the RBA expects to reach its 4% growth target with three quarters of the economy going backwards. Still, bravo for the candor.
Still on risks, and the RBA sees Europe as the major problem, as well as possible upside risks if US housing were to rebound, which is unlikely. Again on the sobering front, the RBA sees Australia in the firing line in the event of a European recession:
The possibility of a sharp economic deterioration in Europe represents a downside risk for the Australian economy. Given strong trade links with Asia, it is likely that Australia would be less directly affected than some other countries by a deterioration in Europe, although the economy would still be affected through falls in asset prices and weaker household and business confidence. Commodity markets could be expected to weaken and growth in domestic incomes would be lower. While there is a large pipeline of committed LNG projects that would be expected to continue, some planned expansions to coal and iron ore capacity could, in a downside scenario, be delayed. It is also likely that there would be a depreciation of the exchange rate, which would provide some offset for the economy. Overall, however, demand growth could be expected to be weaker than in the central forecast.
Personally I'd say that this is now the base case and the earlier material an upside risk. But either way, don't say you weren't warned.
Latest posts by David Llewellyn-Smith (see all)