There were two new mortgage industry reports released yesterday that painted a picture of an increasingly realistic industry. Genworth released its Home Grown Report, which surveys mortgage industry attitudes and expectations for the year ahead, and Deloitte released its Australian Mortgage Report, which seeks to define conditions for the year ahead.
The Deloitte report is probably the more sober, given its semi-0objective standpoint. It predicts that 5% mortgage growth is the "new normal":
Market, or system growth, of 5% p.a. will be a "new normal". Together with the backdrop of an aging population moving from having a mortgage to downsizing, and households deleveraging, it will be a challenging environment for banks to achieve greater growth without taking market share from other providers.
Splendid! What a relief to find an industry player summarising ongoing conditions in such a realistic fashion. What Deloitte doesn't say, though, is that 5% aggregate mortgage growth is a recession for house prices. This level of disleveraging will guarantee further house price falls, probably in the vicinity of those seen in the last year. The concern of course is that if Australia's 1.1 million negatively geared property investors suspect this new normal, they are unlikely to sit on their hands. Still, a breath of fresh air.
The Genworth report is also quite downbeat though less so:
Lending growth slows in 2011, most lenders expect difficult year ahead with fewer first homebuyers and investors
• Majority of lenders have had some business growth over the past year, though wholesale lending has decreased
• Banks are performing the best out of the lender segments (banks, credit unions and building societies, brokers, wholesale lenders and originators).
• Lenders expect 2012 to be a difficult year, mostly due to underemployment in the market. Other factors include tight financing conditions
• For lenders who expect business growth in 2012, it's expected to be driven by a focus on channel strategy/distribution
• Lenders say the typical borrower in 2012 is expected to be mostly refinancers, with first homebuyers (FHBs) and investors expected to drop off (affordability continues to keep FHBs out of the market). Western Australia and Queensland experience largest lending growth while South Australia/Tasmania see largest drop
• Brokers are more optimistic than lenders
• Have seen a drop in lending due to lack of borrowers, especially FHBs
• Brokers also expect refinancers to increase in 2012 and FHBs and upgraders to decrease
• Brokers have a better perception of lender service than in 2010
• Most brokers believe lenders can improve on technological innovation.
Here is a chart of last year's expectations versus this year's.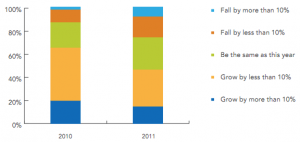 Sobering stuff from a industry renowned for its 'boundless optimism'. Both reports below.
Deloitte a New Normal AMR 2012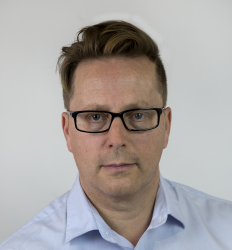 Latest posts by David Llewellyn-Smith
(see all)