MB's got a real European flavour today and rightly so with its credit market's crisis going from bad to worse with every passing day.
Of course there's much talk abroad of the ECB electing to "print" money and begin buying sovereign debt to prevent the crisis spreading further into the banking system.
I thought I'd take a look at the ECB's bond buying to date and see how effective it's been. Here is the chart: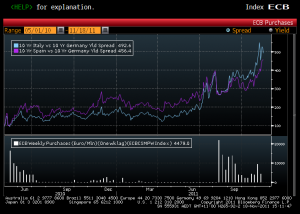 To me this looks like many a chart I've seen when a central bank tries to muscle down a currency. It works initially and then fades quickly, swamped by the trend. As the Swiss central bank has shown recently with its currency peg, if you really want change the trend, you have to go all in.