Back in August this year I highlighted one of my pet peeves, which is the utter contempt the media and real estate industry seem to have for basic ethics by using real estate industry participants in news stories as first home buyers without declaring their interest.
Macrobusiness has since been represented in both The Monthly and Choice Magazine highlighting this issue.
I had hoped that some degree of pressure from the blogoshere would have put this issue to bed, yet today they are at it again  (h/t AlexF) .
Here is the picture from the Domain story, which is quite simply an all out spruik about first home buyer demand caused by adjustments in state duty in NSW: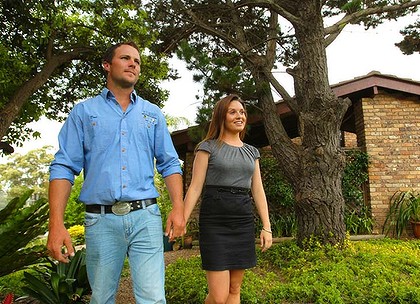 The sub-title on the picture is:
Home free … Dan Brubaker and Kim Ahern moved to buy their first house, in Engadine, as soon as they heard the exemption would end.
And here is what Kim Ahern has to say in the article:
One of these couples is Kim Ahern, 23, and Dan Brubaker, 25, who had been looking for three years for their first house before the state government announcement.

"As soon as we heard the exemption was going to be taken away from us, we pulled out our finger and did something about it," Ahern says. "We couldn't afford to pay for the house as well as all the fees and the stamp duty."

They bought a three-bedroom house in Engadine for $547,500 from Bowen and her business partner, and are due to move in soon.

Ahern says the house, unlike most others in their price range, was immaculate and needed no work. "All we need to do is move straight in," she says.
There is just one small problem. Kim Ahern appears to be a strata manager for LJ Hooker in Cronulla ( 8km from Engadine):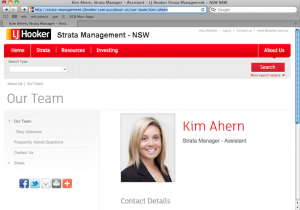 Now, I have no issue with real estate agents buying houses, they are people too. But I take issue with the fact that the media feels that it does not need to declare Ms Ahern profession, which in my opinion is extremely relevant given that her words could easily be interpreted as an enticement to purchase a house.