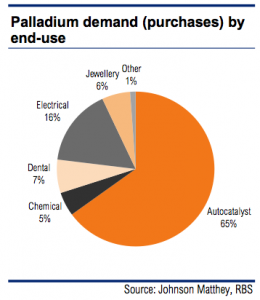 In a recent discussion with a gold and precious metals analyst I have known for a long time, he described a gold conference he recently attended in Europe. Many of the European investors who attended, mostly German and Swiss, were, he said, not really there to learn about the market. They were there to buy physical gold and silver. About 10-15% of their portfolios. That's how bleak the investment environment looks in Europe right now. Royal Bank of Scotland has some comments on the precious metals market, especially palladium. With the equity markets looking as dodgy as they are right now, precious metals plays might be the best way to get capital gains. But of course there is no dividend protection.
RBS likes palladium, noting that the global surplus in platinum will be wafer thin, about one week's supply. Platinum is forecast to be between $1,450-1,800/oz. Palldium's forecast is $650/oz, or $500-800/oz to be on the safe side.
The palladium market is forecast to be in a 725,000 oz surplus this year, or just over four weeks' global gross demand. JM is looking for Russian stock sales of 750,000 oz this year and net disinvestment of 215,000 oz. Without these two stock flows, the market would be in deficit. JM forecasts that Russian stock sales will collapse in 2012-13, that auto-catalyst and industrial uses will grow and investment will turn positive. As such, JM forecasts a return to deficit next year. JM forecast that rhodium – down 35% since end 2010 at just $1,575/oz – will be in a surplus of 123,000 oz in 2011, or seven weeks' global gross demand. Tightening conditions are expected for 2012 on the back of increased auto use (notably in Japan, where auto manufacturers are the heaviest rhodium catalyst users). Chemical applications should increase, but purchasing is likely to soften in the glass sector in line with slower expansion in global melting capacities.

Based on the above, palladium clearly has the best fundamentals among the three PGMs. The collapse of Russian inventory sales removes an essential and consistent part of global palladium supply. While South African mine production and autocatalyst recycling supply are expected to grow, we do not believe that they will do so sufficiently to offset the loss of Russian stock sales.

Moving to demand, JM noted it expected palladium will continue to benefit from ongoing substitution of, still much more expensive, platinum in diesel autocatalysts and estimated that this year, palladium will account for as much as 30% of the PGM loading of a typical European light duty vehicle catalyst.Ongoing efforts by car manufacturers to reduce CO2 emissions should also boost demand, due to increased catalyst loadings. JM forecasts that global autocatalyst demand for palladium in 2011 will rise by 6% to 5.92mozs, double the rate of platinum, and expects an increase "at least as strong" will take place next year. JM are typically conservative in their pronouncements, but in our view this is one of the most bullish palladium scenarios we can remember. The above all support RBS's view that palladium is about to enter a period of sustained structural supply deficits. We agree with JM's expectation of sharp declines in Russian stock sales and we already have in our forecasts that sales will cease post 2013.
There are a few platinum plays on the ASX including PLA, AQP, ZIM. Most of them have some sovereign risk concerns. Futures are also on offer. And there is always the physical stuff. No doubt those fearful Germans and Swiss are looking closely at the latter.