The October NAB Business Survey is out and shows a retracement of much of September's gain. The most important of the numbers above are the employment index, which dropped to -1 following the incongruous jump in September and the clear easing in labour costs, down to 0.6, more than halving in two months. I suspect there's a sizeable move in the wrong direction in the labour market right now and the ABS Labour Force survey later in the week is going to make very interesting reading, especially following the deteriorating ANZ jobs report and the big jump in unemployment as measured by Roy Morgan.
Still, it wasn't all bad. And there is, in fact, some irony in the report given retail continues its revival, even as employment weakens: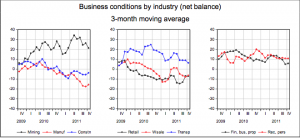 The drought in retail is over for the time being with savings rates stabilised in the 10%+ range and sales now growing in line with wages growth, even if it's not the good old days, nor sustainable given the pressure building offshore. That same pressure is also, it seems, weighing in mining.
In terms of states, NSW, VIC and SA continue to slowly deteriorate, while WA booms on, QLD recovers and whatever two-headed bogey was afflicting TAS has disappeared back into the bushes: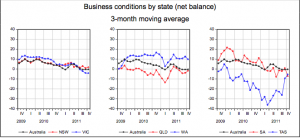 NAB sees it this way:
Conditions soften in October, suggesting growth in the economy is treading water. But, for the second month in a row, confidence has improved. Also tentative signs of Qld re-construction kicking in. 

Business conditions softened in October, partly unwinding an improvement in conditions in the previous month, with trend conditions suggestive of an economy that is treading water at present. Overall, activity was fairly mixed in the month, with the improvement in forward orders somewhat at odds with the fall in the stocks index and the decline in capacity utilisation. Nonetheless, the survey's activity readings, if maintained at current levels, are broadly consistent with underlying demand and GDP (ex. coal) growth of around 3¼% in the December quarter (6-monthly annualised rate).

Business confidence strengthened in October, bolstering the sharp pick up in sentiment in September. The improvement in confidence in the month was consistent with increased speculation that the RBA would cut rates (survey conducted prior to RBA's November Board meeting, when rates were cut by 25bp to 4.5%), while European Finance Ministers appeared to be taking more decisive steps to try to resolve European sovereign debt problems and more favourable activity data out of the US appeared to have allayed fears of a double dip recession.

Business conditions deteriorated for the majority of industries in October, with the exception of construction, where activity strengthened significantly – it appears that the Queensland reconstruction effort may be starting to kick in. During October, there were large declines in mining and transport & utilities conditions. Overall, manufacturing, retail and wholesale conditions remained fairly subdued.   Labour costs growth continued to soften in October, which was consistent with the recent deterioration in employment conditions. Final product prices and retail prices were very subdued.
Full report below.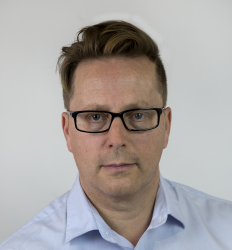 Latest posts by David Llewellyn-Smith
(see all)