From the Herald Sun yesterday:
Stamp duty cuts are failing to lure first-home buyers into the market as their numbers tumble to a seven-year low.

First-home buyers took out 6488 loans in the three months since the July 1 cut – 5 per cent fewer than the 6824 granted in the same period a year earlier and close to half the number recorded in 2009.

Budding new home owners accounted for 15 per cent of all mortgages granted in September, which was down from 17 per cent a year earlier and almost 30 per cent in 2009, according to figures released by the Australian Bureau of Statistics.

Any incentive offered by the 20 per cent stamp duty cut, which amounts to about $3800 on a $450,000 purchase, has been erased by the prospect of further falls in property prices and weak consumer confidence.

"First home buyers are subject to the same issues as all home buyers: reduced confidence because of the state of the international economy," Real Estate Institute of Victoria spokesman Robert Larocca said.

"While the 20 per cent cut is welcome, it alone will not – and it really was not supposed to – lead to revival in the property market."
It's probably a fair point.  The exemption rises 10% per year each subsequent year to 50% in 2014 which isn't exactly pump priming the market up front, though it surely is still a form of stimulus. The Real Estate Institute of Victoria (REIV) has a reputation for uber-bullishness so I can't help wondering what it means when they start highlighting bearish statistics? Of course it may not have been the REIV that pitched the story into the HS. Perhaps the paper came up with it themselves, including the ABS data calcs. Nonetheless, the REIV has participated and it's pretty clear that they are looking for: more help. And no wonder, here is the chart of FHBs by state: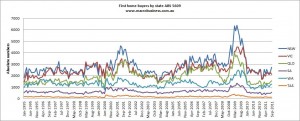 Victoria is lagging the modest national bounce. Expect such pressure to grow.