As I discussed earlier in the week, Domain has recently been trying to get first home buyers excited about the return of a weak pulse to that segment of the housing market.
Today they take this conceit to the the next wave queuing up to buy: the "move up" group:
Now could be a good time to climb some rungs on the property ladder, writes Antony Lawes.

Families looking to upgrade to a bigger house have been noticeably absent from the Sydney real estate market for much of this year but that might be about to change, experts predict.

Agents are starting to see more of these buyers at open houses and in some of the more affordable upgrader areas – where these properties sell for less than $1 million – they are very active. This is in contrast to more affluent suburbs, where interest has been much more subdued.

The chief executive of LJ Hooker Real Estate, Janusz Hooker, says the catalyst for upgraders re-entering the market has been the Reserve Bank's interest rate cut.

"What that's done is given a lot of people extra cash in their future cash flow," he says. "So at our open for inspections over the past couple of weeks since the RBA's announcement, we've seen an increase in activity of about 10 per cent [in these buyers], which is pretty significant."

This activity is spread across Sydney but is being felt strongly in areas such as Parramatta, where upgraders dominate the market, Hooker says. "In that sub-$1 million market, we're seeing a lot of activity with upgraders because people are seeing opportunity now.

"At our Parramatta office, almost all sales last weekend were to upgraders."
Just as in the case of the recent first home buyer article, we have no data to back up these assertions. Perhaps the rate cut has stimulated some new interest, that's what it is designed to do. But we as yet have no data suggesting a national bounce in borrowing for existing house purchases beyond Sydney.
Now, don't get me wrong, Domain is working from precedent and logic. After all, as the article itself argues, move up buying activity does follow surges in the first home bracket as earlier first home buyers cash out there gains and go for nicer homes. And there is actually a note of sobriety from Andrew Wilson:
The senior economist at Australian Property Monitors, Andrew Wilson, says upgraders are confining themselves to areas with stronger growth relative to more expensive suburbs, such as the hills district. But overall, he says their numbers are still quite low and probably won't start to pick up until about the middle of next year after several months of interest-rate stability and confidence in the economy builds.

If that happens, these buyers will move back into the $1 million-plus areas – classic upgrader territory.

Wilson says upgrading tends to be a product of a rising market, given that part of the motivation is that property seems to be a solid investment.

"Except, perhaps, in the outer north-west, I don't think we're seeing much upgrading at the moment," Wilson says. "The upgrading cycle is at the bottom and, in a general sense, we'll start to see more activity next year.

"Sentiment is still fragile and it would not take much for people to start postponing those upgrade decisions."
And that is the problem with the entire article. Wilson is right, upgraders are very much a rising market entity. Without a rising market the only way upgraders can increase their equity to make the jump to a higher bracket is through paying down the mortgage, which takes a long time. Moreover, in a falling market, which is what we have, upgrading can become very subdued indeed. That is because as entry level prices fall, many of the first buyers that hoped to get onto the "move up ladder" suddenly find themselves with negative equity and can't sell even if they want to. The ladder stalls and can do so for a long time.
This is especially the case after governments intervene in property markets with first home buyer subsidies. After the post-millennium FHOG surge in Sydney prices, the entry level homes in the mortgage green belt of Sydney fell back to former values and some below. With the subsidy and rampant market conditions, many first home buyers had over-stretched themselves paying goosed prices and when those prices fell the negative equity was that much worse. This stalled the Sydney move-up ladder for five years and the market went nowhere until it was bailed out by a second FHOG: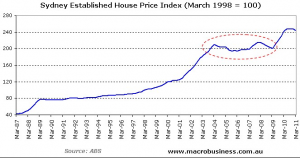 And here's a map of Sydney mortgage delinquencies from earlier this year showing exactly the same pattern this time around: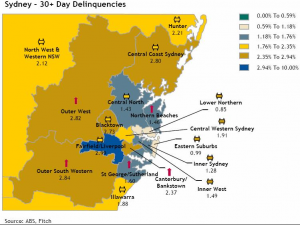 I watched the first leg of precisely the same phenomenon transpire in the 2009/10 Melbourne buyers panic as outer suburbs boomed then inner suburbs followed as the sellers became buyers. I expect exactly the same result for Melbourne as experienced by Sydney in 2003 on the downside of the slope. And remember, the 2009 FHOG surge was national this time. Looking for an up-grader surge of any magnitude in these conditions is fool's gold.