The night started well:
German business confidence ticked up unexpectedly in November, reversing a four-month decline, data from Germany's Ifo research institute showed Thursday.

The stronger-than-expected figures help offset rising concerns that Germany is being dragged down by the debt and banking crisis, following a disappointing government debt auction Wednesday that was taken as a sign that investors are now shunning even the safest euro-zone assets.

Ifo economist Klaus Abberger warned that the modest November increase shouldn't be taken as a trend and reiterated the institute's view that economic stagnation is possible in the next two quarters, with hardly any momentum from abroad. However, Mr. Abberger said the euro zone's largest economy is only expected to undergo a slowdown, as opposed to entering "freefall."
All markets were up on the news and with the DAX managing to gain 1.75%, but after that it all went a little wrong:
German Chancellor Angela Merkel again ruled out joint euro-area borrowing and an expanded role for the European Central Bank in fighting the debt crisis.

Euro bonds are "not needed and not appropriate," Merkel said today at a press conference with Italian Prime Minister Mario Monti and French President Nicolas Sarkozy in Strasbourg, France. She said euro bonds would "level the difference" in euro-region interest rates. "It would be a completely wrong signal to ignore those diverging interest rates because they're an indicator of where work still needs to be done."
And those words led quickly to this on the DAX: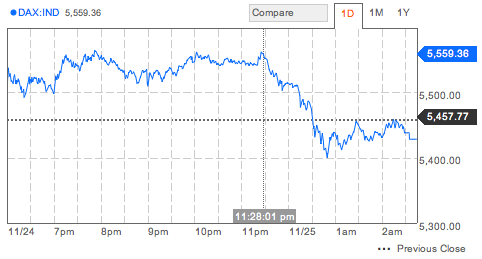 But more importantly, Merkel's words did this to Italy's yields which, somewhat ironically, was the main reason Mario Monti was meeting with Merkozy in the in the first place: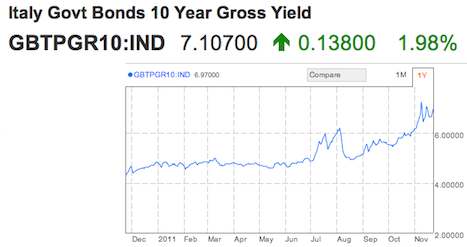 Now, I can't be sure why this particular time that Merkel rejected a supra-European debt instrument that the market took it so badly. It is not as if she has suddenly changed her mind, in fact she made the exact same statement 24 hours before the press conference. As far as I am aware, nearly every time over the last 12 months anyone within the EU mentioned "euro bonds" it was almost immediately followed by the words ".. are not appropriate at this time" by someone from the German parliament. However, the markets didn't like it at all so equities fell and bond yields for all euro countries went up along with their CDS.
The conference did however have an outcome. We have yet another "plan for a plan" coming our way:
"Trust has been lost," said Ms. Merkel. "That is why it is important that we demonstrate that we trust each other and trust that each of us individually is doing his homework back home. We want to demonstrate that we have to take steps towards a fiscal union, that policies must be more closely coordinated if we want to have a common, stable currency."

The three leaders didn't spell out what kinds of changes are in the pipeline. However, they said they will present a plan ahead of the next European Council meeting Dec. 9, including proposals to grant Brussels oversight and disciplinary powers over national budgets that exceed euro treaty restrictions on public debt and deficits.
So let's just take a look at exactly which countries are sticking to the current Eurozone treaty restrictions of an annual budget deficit of no more than 3% and a public debt to GDP ratio of less than 60%, as described in the stability and growth pact.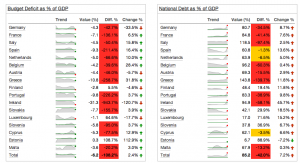 Not France or Germany it would seem. So I can only assume that the latest "plan for a plan" will include some revisions of those rules so that Sarkozy and Merkel doesn't look so embarrassingly hypocritical while berating other nations about their public debts.
From the press conference it would seem we have at least another 3 weeks of dithering before we are going to see anything new, in the meantime the periphery continues on its path of self-reinforcing economic misery:
Fitch downgraded Portugal's credit rating to junk status on Thursday, citing large fiscal imbalances, high debts and the risks to its EU-mandated austerity program from a worsening economic outlook.

The ratings agency cut Portugal to BB+ from BBB-, which is still one notch higher than Moody's rating of Ba2. S&P still rates Portugal investment grade.

Fitch said a deepening recession makes it "much more challenging" for the government to cut the budget deficit but it still expects fiscal goals to be met both this year and next.
In other news , Portugal strikes,  Malta's unemployment falls , and Romania is unhappy with Austria's new banking plan.