There is a clear consensus at MB that the RBA got monetary policy settings right this year. They balanced the medium term structural forces of the mining boom against the temporary inflation spike caused by the floods and the weakness in the services economy emanating from falling house prices. Kudos.
However, the same can't be said of their forecasts. On GDP, up until May, well after the floods, they were still projecting unrealistic GDP for the first quarter and the year: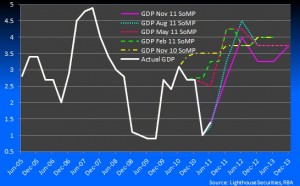 On inflation, right up until last week they were still projecting a much higher headline CPI rate (though the corrections would have been sooner if the SoMP was monthly) :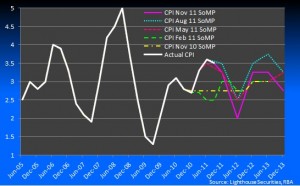 The same is true of core inflation: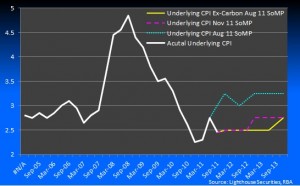 The main point I want make is that the RBA showed considerable integrity in ignoring its own forecasts and making monetary policy judgements based upon the much weaker data flow this year. In this vein I think we can all be grateful that less measured voices in the debate were completely ignored.